The Grinch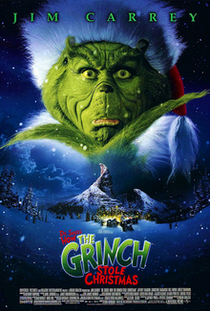 THE GRINCH (aka HOW THE GRINCH STOLE CHRISTMAS) (PG)
Universal/Imagine (Ron Howard & Brian Grazer)
W: Jeffrey Price & Peter S. Seaman [based on the book by Dr. Seuss (Theodore Gisel)]
Ed: Dan Hanley & Mike Hill
PD: Michael Corenblith
Cos: Rita Ryack
Jim Carrey (The Grinch), Jeffrey Tambor (Mayor Augustus May Who), Christine Baranski (Martha May Whovier), Bill Irwin (Lou Lou Who), Taylor Momsen (Cindy Lou Who), Anthony Hopkins (narrator)
Jim Carrey is completely unrecognisable beneath Rick Baker's amazingly designed makeup effects, and the fantasy world of Whoville is brilliantly brought to the screen from the imagination of Dr. Seuss.
The Grinch is what he is, a moody, miserly creature who despises Christmas and decides to steal it from the cheery folk of Whoville, only to grow a conscience and give it back.
Unfortunately, the film settles too much on cutesy saccharine and ghastly songs rather than magical fantasy, although young kids will absolutely love this around the holiday season.
5/10