The Grifters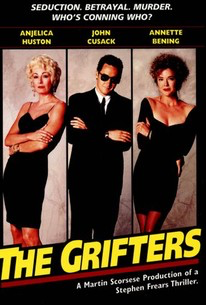 THE GRIFTERS (18)
D: Stephen Frears 
Palace/Cineplex Odeon (Martin Scorsese, Robert A. Harris & James Painten)
W: Donald E. Westlake [based on the novel by Jim Thompson]
Anjelica Huston (Lilly Dillon), John Cusack (Roy Dillon), Annette Bening (Myra Langtry), Pat Hingle (Bobo Justus), J. T. Walsh (Cole Langtry)
It may look and feel like a Martin Scorsese film, but the director only held producer duties on the picture, handing the directorial reins over to Brit Stephen Frears, who does an absolutely fantastic job with a rather perverse story.
Anjelica Huston & John Cusack are mother and son, both confidence tricksters, Cusack small-time with his girlfriend Bening, while Huston gets bigger slices of the wedge, ripping off her mobster boss.
The trio of performances are perfect, while the film resembles a dark, austere update of film noir, brilliantly written by Donald E. Westlake (from Jim Thompson's novel). 
8/10