The Green Hornet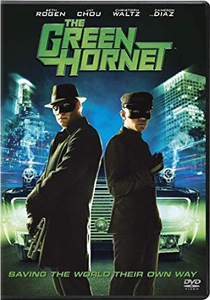 THE GREEN HORNET (12)
Sony/Columbia (Neal H. Moritz)
W: Seth Rogen & Evan Goldberg [based on characters created by George W. Trendle & Fran Striker]
Seth Rogen (Britt Reid / The Green Hornet), Jay Chou (Kato), Christoph Waltz (Benjamin Chudnofsky), Cameron Diaz (Lenore Case), Tom Wilkinson (James Reid)
Amongst the poorest superhero movies of recent years, starring a very miscast Seth Rogen (who also co-wrote the script) playing the same character here as he does in, well, every other movie he's ever been in.
Whether or not you're a fan of the Green Hornet comics, chances are you'll be disappointed by this transition, which seems happy to settle on being another stoner comedy.
The character had promise, but this film certainly had the wrong director, cast and approach to the material.
3/10