The Grapes of Wrath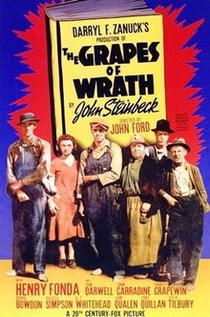 THE GRAPES OF WRATH (PG)
D: John Ford
20th Century Fox (Darryl F. Zanuck & Nunnally Johnson)
USA 🇺🇸 1940
128 mins
Drama
W: Nunnally Johnson [based on the novel by John Steinbeck]
DP: Gregg Toland
Ed: Robert Simpson
Mus: Alfred Newman
PD: Richard Day & Mark Lee Kirk
Henry Fonda (Tom Joad), John Carradine (Casy), Jane Darwell (Ma Joad), Charley Grapewin (Grandpa), Dorris Bowdon (Rosasham)
Quite faithfully adapted from John Steinbeck's literature classic, John Ford's big screen version of The Grapes Of Wrath perfectly captures the austerity and mood of The Great Depression.
Paroled from prison for a homicide sentence, Tom Joad returns to his family's Oklahoma ranch to discover they've been thrown off the land which had been in their possession for generations. 
After reuniting with them, he joins them on a gruelling journey to California, where they hope to find work as transient migrants. 
However, when they arrive in California, they find the attitudes and treatment towards them increasingly hostile and the conditions in the work camps equally as bad.
As a film, it's not designated to entertain, but to inform, which it does so unequivocally powerfully, with a masterclass of a leading performance by Henry Fonda and excellent support.
The film is actually a little perkier than the novel, tweaking the ending slightly for something a little more upbeat. One of the most powerful films ever made.
10/10