The Graduate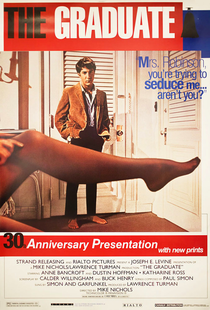 THE GRADUATE (15)
D: Mike Nichols
Embassy (Lawrence Turman)
W: Calder Willingham & Buck Henry [based on the novel by Charles Webb]
DP: Robert Surtees
Mus: Dave Grusin; Paul Simon 
Dustin Hoffman (Ben Braddock), Anne Bancroft (Mrs. Robinson), Katharine Ross(Elaine Robinson), William Daniels (Mr. Braddock), Murray Hamilton (Mr. Robinson), Elizabeth Wilson (Mrs. Braddock)
A milestone of cinema, Mike Nichol's sex comedy is much more than that, featuring sublime performances from Anne Bancroft, Dustin Hoffman & Katherine Ross.
Hoffman plays the graduate in question, Ben Braddock, who looks like a rabbit in headlights as he decides what to do with his future, led into an affair with the wife of his father's friend before falling in love with her daughter.
The Graduate perfectly captures the times of the "swinging 60's" without being tawdry or cheap, and has some very artistic mis-en-scene.
The classic songs of Simon & Garfunkel which flood the soundtrack also helped the film achieve cinema immortality, The Graduate is not only one of the best films of the 1960's, it is amongst the best movies of all time.
10/10