The Good Girl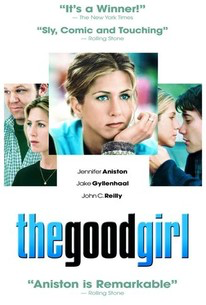 THE GOOD GIRL (15)
20th Century Fox/Myriad/In-Motion/WMF (Matthew Greenfield)
USA/Germany/Netherlands 🇺🇸 🇩🇪 🇳🇱 2002
W: Mike White
Mus: Tony Maxwell, James O'Brien, Mark Orton & Joey Waronker
Jennifer Aniston (Justine Last), Jake Gyllenhaal (Thomas Worther), Zooey Deschanel (Cheryl), John C. Reilly (Phil Last), Tim Blake Nelson (Bubba)
Jennifer Aniston's film career was often smited with her being typecast as the same character she played in the TV sitcom Friends, but in this independent comedy her performance is quite refreshing.
She plays a supermarket checkout girl who embarks on an adulterous affair with an oddball new employee who develops an obsession with her (Jake Gyllenhaal), meanwhile, her husband, John C. Reilly, struggles to understand what made her look for love elsewhere.
Zooey Deschanel also chips in with a hilarious supporting performance as a laid back supermarket assistant.
A fine comedy with great performance and some very amusing dialogue, much better than the insipid nonsense Aniston was usually typecast in.
7/10