The Gold Rush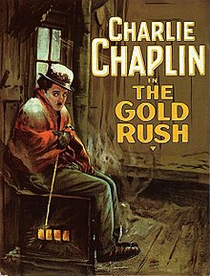 THE GOLD RUSH(PG)
D: Charles Chaplin
United Artists (Charles Chaplin)
USA 🇺🇸 1925 [sound version*: 1942]
72 mins / 69 mins*
Comedy
W: Charles Chaplin 
DP: Rollie Totheroh
Ed: Charles Chaplin / Harold McGhenn*
Mus: Charles Chaplin / Max Terr*
Charles Chaplin (The Lone Prospector), Mack Swain (Big Jim McKay), Georgia Hale (Georgia), Tom Murray (Black Larsen)
The Gold Rush is among Charles Chaplin's most iconic films, and it can be enjoyed in two versions. The original 1925 silent, with title cards to show the dialogue, or a 1942 re-release, complete with a new music score and narration.
The story follows the adventures of a lone prospector in the Yukon valley during the great Californian gold rush. 
The most memorable scene, where Chaplin cooks and eats his own boots, would even be known by those who haven't even seen the movie.
On balance, the silent version is much better than the 1942 'talkie', but either version is recommended to fans of Chaplin's work or Hollywood golden age comedy.
8/10