The Godfather (trilogy)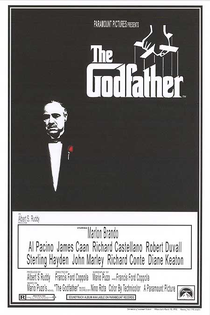 THE GODFATHER (18)
D: Francis Ford Coppola
Paramount (Albert S. Ruddy)
W: Francis Ford Coppola & Mario Puzo [based on the novel by Mario Puzo]
DP: Gordon Willis
Ed: William Reynolds & Peter Zinner
Mus: Nino Rota
PD: Dean Tavoularis
Cos: Anna Hill Johnstone
Marlon Brando (Don Vito Corleone), Al Pacino (Michael Corleone), James Caan (Sonny Corleone), Richard Castellano (Clemenza), Robert Duvall (Tom Hagen), Sterling Hayden (McClusky), John Marley (Jack Woltz), Diane Keaton (Kay Adams), Richard Conte (Barzini), Talia Shire (Connie), John Cazale (Fredo)
The first segment of the greatest crime trilogy cinema has ever seen is absolute perfection on its own merits as a standalone film, without even bringing the sequels into the fold.
While Marlon Brando may get top-billing as Don Vito Corleone, matriarch of a mob hierarchy, the film (and indeed the trilogy) charts the rise of his son Michael to take over the family business, from a clean-cut introduction as a family man with a military background.
The Godfather was a groundbreaking film on its original release, and though it  received criticism for the more violent scenes, it also received many accolades, including the Best Picture Oscar, which was thoroughly deserved. The power of the film still holds strong over 40 years later and must be considered the greatest crime film of all time.
10/10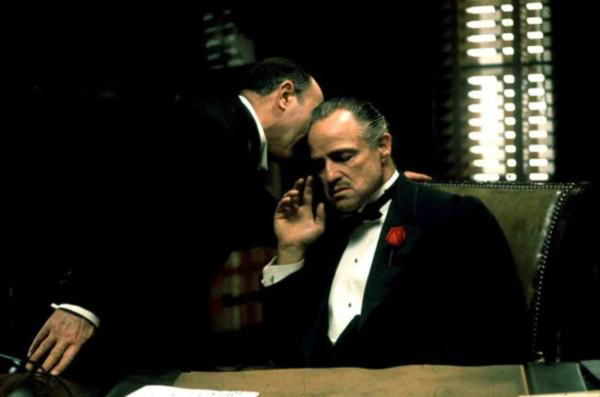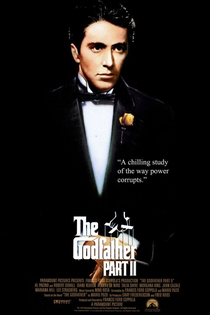 THE GODFATHER part II (18)
D: Francis Ford Coppola
Paramount (Francis Ford Coppola, Gray Fredrickson & Fred Roos)
W: Francis Ford Coppola & Mario Puzo [based on the novel by Mario Puzo]
DP: Gordon Willis
Ed: Peter Zinner, Barry Malkin & Richard Marks
Mus: Nino Rota & Carmine Coppola
PD: Dean Tavoularis
Cos: Theadora Van Runkle
Al Pacino (Michael Corleone), Robert Duvall (Tom Hagen), Robert DeNiro (Vito Corleone), Talia Shire (Connie Corleone), John Cazale (Fredo Corleone), Lee Strasberg (Hyman Roth), G. D. Spradlin (Senator Geary), Michael V. Gazzo (Frank Pentangeli), Richard Bright (Al Neri)
Following on from the events in the first film, Michael Corleone tightens his strangehold on the mafia empire while the story extends its timeframe to depict his father, Vito Corleone, in his younger years, involved in a similar struggle for respect and power when he arrived in America in the early part of the 20th century.
Francis Ford Coppola's second film of his crime sage is an ambitious and complex project, presenting the stories of two Corleone's in tandem over two very different timelines, from Vito's humble beginnings of turning to a life of crime for survival, to Michael's obsession with power for power's sake, showing a huge contrast between petty crime and corporate.
Often considered the greatest sequel in movie history, it's difficult to disagree with the accolade, although the first film is certainly easier to follow with it's linear narrative and also has a much kinder length.
10/10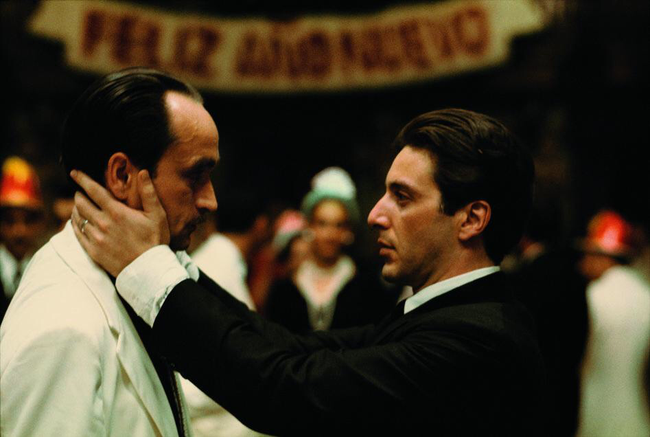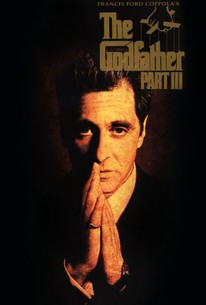 THE GODFATHER part III (18)
Paramount (Francis Ford Coppola, Gray Fredrickson, Fred Roos & Charles Mulvehill)         
W: Francis Ford Coppola & Mario Puzo [based on characters created by Mario Puzo]
DP: Gordon Willis
Ed: Barry Malkin, Lisa Fruchtman & Walter Murch
PD: Dean Tavoularis
Al Pacino (Michael Corleone), Diane Keaton (Kay Adams), Talia Shire (Connie Corleone), Andy Garcia (Vincent Mancini), Eli Wallach (Don Altobello), Joe Mantegna (Joey Zasa), George Hamilton (B. J. Harrison), Bridget Fonda (Grace Hamilton), Sofia Coppola (Mary Corleone)
A disappointing conclusion to the trilogy, which may not have been so harshly criticised if it was a standalone film. Part III is incredibly well filmed and has a handful of good performances, but when compared to the first two crime masterpieces, it's incredibly flawed.
Michael Corleone is now reaching his twilight years, separated from his wife and trying to clean up his illegitimate businesses so he can leave his legacy to his children.
The first two films were always going to be a difficult act to follow and some criticism's to the final film were harsh, the plot maintains interest throughout and Andy Garcia is excellent as Corleone's violent nephew, unfortunately his hard work is undone by the wretched performance of Sofia Coppola as Michael's daughter, her attempts at acting only make a laughing stock out of what were intended to be the more dramatic scenes.
7/10