The Ghost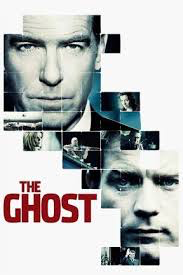 THE GHOST (aka THE GHOST WRITER) (15)
Summit (Roman Polanski, Robert Benmussa & Alain Sarde)
UK/France/Germany 🇬🇧 🇫🇷 🇩🇪 2010
W: Roman Polanski & Robert Harris [based on the novel by Robert Harris]
Ewan McGregor (The Ghost Writer), Pierce Brosnan (Adam Peter Bennett Lang), Olivia Williams (Ruth Lang), Tom Wilkinson (Paul Emmett), Timothy Hutton (Sidney Kroll), Kim Cattrall (Amelia Bly), Jon Bernthal (Rick Ricardelli)
Not a supernatural tale that the title would suggest but a political thriller about an unnamed ghost writer (Ewan McGregor) hired to put the finishing touches to the autobiography of a politician (Pierce Brosnan) caught up in scandal.
As McGregor becomes increasingly suspicious of his subject's behaviour, he discovers that the writer who preceded him was murdered and the crime was covered up.
The story does occasionally drag in places and Pierce Brosnan is very underused, but it does have strong moments of tension. It's not one of director Roman Polanski's better films but it's a better film with him at the helm, not afraid to close the film with a surprise 'Un-Hollywood' ending.
7/10