The Gay Divorcee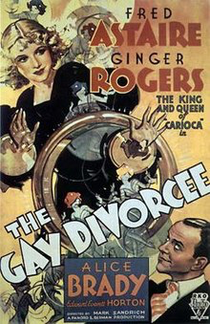 THE GAY DIVORCEE (PG)
D: Mark Sandrich
RKO (Sandro S. Berman)
USA 🇺🇸 1934
107 mins
Musical/Comedy
W: George Marion, Jr., Dorothy Yost & Edward Kaufman [based on the stage play "The Gay Divorce" by Dwight Taylor]
DP: David Abel
Ed: William Hamilton
Mus: Max Steiner 
Fred Astaire (Guy Holden), Ginger Rogers (Mimi Glossop), Alice Brady (Aunt Hortense), Edward Everett Horton (Egbert 'Pinky' Fitzgerald), Erik Rhodes (Rodolfo Tonetti)
This film was Fred Astaire's and Ginger Rogers' first partnership for which they received top billing, reworking Dwight Taylor's stage musical 'The Gay Divorce' by composing a large collection of new songs and tweaking the title, since it would be improper in 1934 for a divorce itself to be deemed a happy occasion.
Astaire plays Guy Holden, a dancer who meets and becomes smitten by Mimi Glossop, an American woman who travels to an English seaside resort, seeking a divorce from her absentee husband.
Though much of the story, dialogue, mannerisms and musical numbers are dated, the film still carries a good amount of charm, humour and it's easy to see why Astaire & Rogers would go on to make several more films together.
Cole Porter's 'Night & Day' is probably the most famous song from the film (& stage play), while the 17-minute-long show stopper 'The Continental' became the first winner of the Best Original Song Oscar.
Conservative, quaint and ridiculously dated, but still very much enjoyable.
7/10