Guardians of the Galaxy (1 & 2)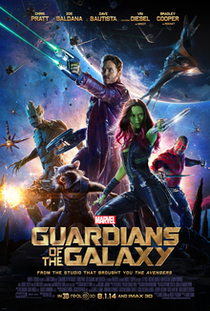 GUARDIANS OF THE GALAXY (12)
Disney/Marvel (Kevin Feige)
W: James Gunn & Nicole Perlman [based on characters created by Dan Abnett & Andy Lanning]
Ed: Craig Wood, Fred Raskin & Hughes Winborne
Chris Pratt (Star-Lord), Zoe Saldana (Gamora), Dave Bautista (Drax), Vin Diesel (voice of Groot), Bradley Cooper (voice of Rocket), Lee Pace (Ronan the Accuser), Michael Rooker (Yondu Udonta)
One of the most successful summer movies of 2014 and easily one of the most fun. 
Based on a rather obscure series of comics from Marvel, you'd be forgiven for not being too familiar with the source material (I wasn't), but it doesn't matter too much as the film doesn't take too long to immerse you into the universe of it's original characters.
The plot itself may as well be Star Wars: a power-hungry dark lord wants to assume power over the galaxy and is in possession of a secret weapon with the power to destroy entire planets. Meanwhile, a rag-tag group of misfits, including a talkative raccoon and a not-so-talkative tree, escape from a prison installation and put in place a plan to thwart the bad guys plans.
Comedy weighs into the film just as much as action and science fiction and it's a thoroughly enjoyable watch. Rocket the Raccoon may well be one of the coolest movie characters of the year and the film was nominated for two Oscars (Makeup, Visual Effects), a rarity for a movie with comic book origins. Perhaps the biggest surprise of all is that the director, James Gunn, used to cut his teeth on Troma productions. This is a massive step up.
8/10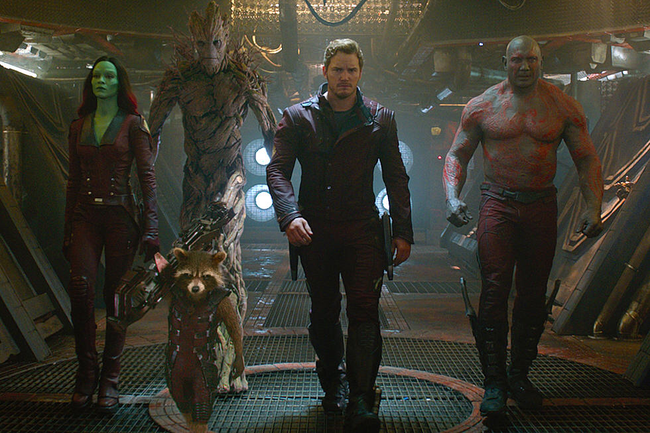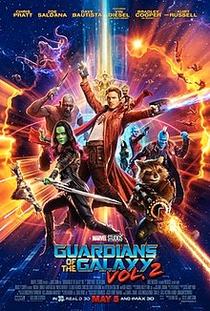 GUARDIANS OF THE GALAXY VOL. 2 (12)
D: James Gunn
Disney/Marvel (Kevin Feige)
USA 🇺🇸 2017
136 mins
Science Fiction
W: James Gunn [based on characters created by Dan Abnett & Andy Lanning]
DP: Henry Braham 
Ed: Fred Raskin & Craig Wood
Mus: Tyler Bates
Chris Pratt (Peter Quill / Star-Lord); Zoe Saldana (Gamora); David Bautista (Drax); Vin Diesel (voice of Baby Groot); Bradley Cooper (voice of Rocket); Michael Rooker (Yondu Udonta); Karen Gillan (Nebula); Kurt Russell (Ego); Sylvester Stallone (Stakar Ogord)
The Guardians of the Galaxy return for this sequel which ups the comedy and action quota, but the story isn't quite as good as the original film.
Recognised as heroes, the Guardians are separated as Star-Lord learns the truth about his parentage, and a new enemy arises for revenge for what they consider betrayal.
As with the original film, the visual effects are top notch and excellent makeup effects & CGI bring the weird and wonderful to life on the big screen.
All the cast are as good as can be, though Sylvester Stallone is wasted in a needless cameo. 
The soundtrack is also worth a listen to on its own merits. 
7/10