Grown Ups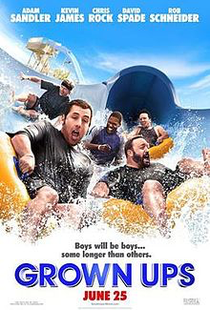 GROWN UPS (15)
Columbia/Relativity Media/Happy Madison (Jack Giarraputo & Adam Sandler)
W: Adam Sandler & Fred Wolf
Mus: Rupert Gregson-Williams
Adam Sandler (Lenny Feder), Kevin James (Eric Lamonsoff), Chris Rock (Kurt McKenzie), Rob Schneider (Rob Hilliard), David Spade (Marcus Higgins), Salma Hayek (Roxanne Feder), Maya Rudolph (Deanne McKenzie), Maria Bello (Sally Lamonsoff)
Grown Ups is one of them movies which looks like it was a lot more fun to make than it is to actually watch, starring Adam Sandler and his buddies as characters which represent themselves, meeting for a reunion following a funeral for a weekend at a lakeside cabin they stayed at in their younger days.
That's pretty much the story, grown men reminiscing on their childhood and getting up to mischief while their spoiled children pine for expensive coffees and their computer consoles.
There's a noticeable lack of plot and the comedy is nothing more than occasional sight gag or outburst of profanity. The biggest crime of all is that the characters don't even remain consistent in consecutive scenes, especially Rob Schneider's, who claims to be a strict vegetarian in one early scene but reaches into a KFC bucket not even two minutes later (ah, product placement).
The flaws mean nothing though, and with Adam Sandler's fanbase it was bound to be such a big money-spinner that the comedian treated himself to four new cars with the profits. What a lucky chap.
4/10