Gremlins (1 & 2)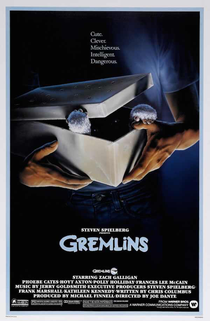 GREMLINS (15)
D: Joe Dante
Warner Bros./Amblin (Michael Finnell)
W: Chris Columbus
Mus: Jerry Goldsmith
Zach Galligan (Billy Peltzer), Phoebe Cates (Kate Beringer), Hoyt Axton (Randall Peltzer), Frances Lee Cain (Lynn Peltzer), Corey Feldman (Pete), Polly Holliday (Mrs. Deagle), Dick Miller (Murray Futterman)
Joe Dante's classic creature feature is a throwback to the B-movies of the 1950's, with some superb animatronic effects from special effects designer Chris Walas.
Set in a small town over the Christmas holidays, an eccentric inventor finds a new pet for his son, picked up from a mystical thrift shop in Chinatown.
The Mogwai creature itself is a sweet bundle of joy, but when it gets wet and multiplies, its offspring are far more vicious and mischievious, even more so when they eat after midnight.
Gremlins is one of the true 80's classics and while the cartoon violence might be a little too much for young children, the film is more of a comedy than it is a horror.
8/10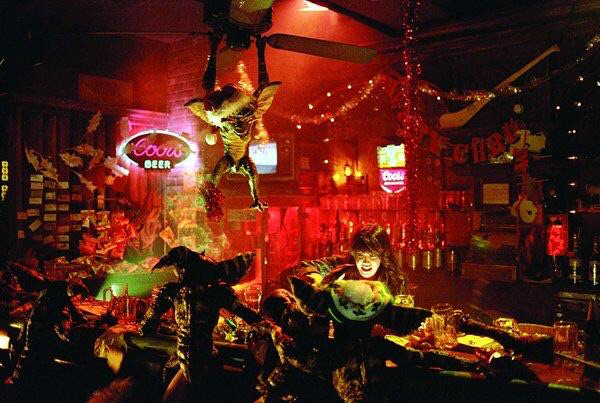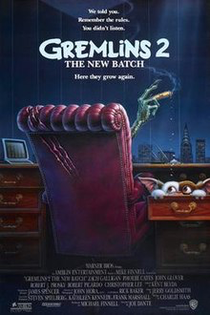 GREMLINS 2: THE NEW BATCH (12)
Warner Bros./Amblin (Michael Finnell)
W: Charlie Haas [based on characters created by Chris Columbus]
Zach Galligan (Billy Peltzer), Phoebe Cates (Kate Beringer), John Glover (Daniel Clamp), Robert Prosky (Grandpa Fred), Howie Mandell (voice of Gizmo), Christopher Lee (Dr. Catheter), Dick Miller (Murray Futterman)
Horror is cast aside for this comedy-driven sequel, packed with in-jokes and even more cartoonish shenanigans.
Following the death of his Chinese master, Gizmo the Mogwai finds his way back to Billy (his owner in the first film), who now works for a big corporation headed by media mogul John Glover and the building soon becomes overrun with mischevious Gremlins, causing havoc and taking over the TV channels, where they conduct their usual misbehaviour.
As far as sequels go, this isn't bad. The original film just couldn't be bettered, and it's a huge shame that Chris Walas passed the creature design reins over to Rick Baker, who opts for a more OTT, eye-popping, cartoon style of monster, rather than the cheekily evil beasties in the original 1984 film.
5/10