Grease (1 & 2)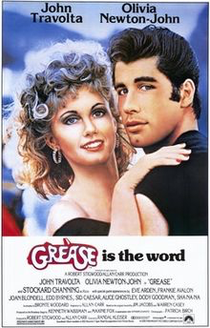 GREASE (PG)
Paramount (Robert Stigwood & Allan Carr)
W: Bronte Woodard & Allan Carr [based on the musical by Jim Jacobs & Warren Casey]
John Travolta (Danny Zuko), Olivia Newton-John (Sandy), Stockard Channing (Rizzo), Jeff Conaway (Kenickie), Didi Conn (Frenchy), Jamie Donnelly (Jan), Dinah Manoff (Marty), Barry Pearl (Doody), Michael Tucci (Sonny)
Criticproof cult musical which has several bad points but still continues to amass a huge fan base over 30 years after it's original release.
Based on a stage musical, it's a rather basic boy meets girl story with some questionable morals, such as being rebellious equals being cool, and girls will get the guy if they act slutty. The soundtrack however is incredibly memorable, and the success of the film cannot be sniffed at.
John Travolta & Olivia Newton-John aren't exactly convincing as high school students, but are still irreplaceable in their roles, although both are completely upstaged by Stockard Channing's Rizzo.
Far from perfect, but who cares? It's cheesy, nostalgic fun.
8/10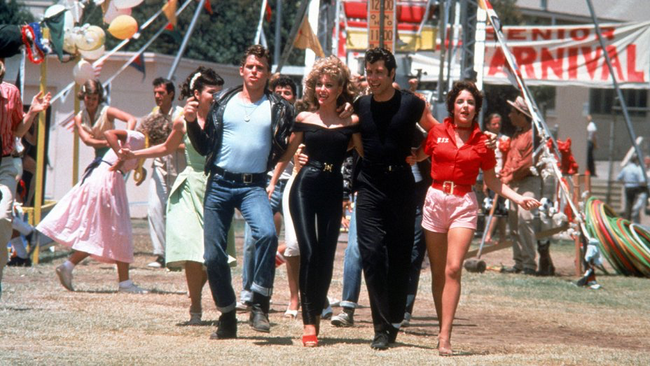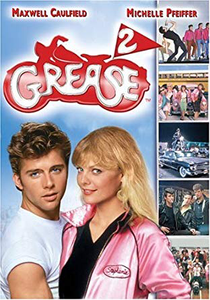 GREASE 2 (PG)
Paramount (Robert Stigwood & Allan Carr)
Maxwell Caulfield (Michael Carrington), Michelle Pfeiffer (Stephanie Zinone), Adrian Zmed (Johnny Nogorelli), Lorna Luft (Paulette Rebchuck), Eve Arden (Principal Greta McKee), Christopher McDonald (Goose McKenzie)
The success of the original film ensured that a sequel would materialise, although this isn't what the 1978 film deserved.
Story-wise, it's virtually a remake of the first film, although drag racing has been replaced with motorcycles, the T-Birds are turned into a bunch of uncool wimps (although the Pink Ladies are still as slutty) and it can't seem to decide whether or not it's set in the 1960's or 1980's.
It's not as bad as some of the hate it gets, although it was bad enough to ensure there wasn't going to be a part 3.
4/10