Gosford Park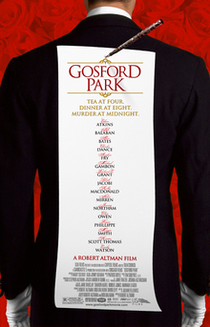 GOSFORD PARK (15)
D: Robert Altman
EFD/USA Films/Capitol/Film Council/Sandcastle 5/Chicagofilm/Medusa (Robert Altman, Bob Balaban & David Levy)
UK 🇬🇧 2001
137 mins
Drama/Mystery
W: Julian Fellowes
DP: Andrew Dunn
Ed: Tim Squyres
Mus: Patrick Doyle
PD: Stephen Altman
Cos: Jenny Beavan
Maggie Smith (Constance, Countess of Trentham), Michael Gambon (Sir William McCordle), Kristin Scott-Thomas (Lady Sylvia McCordle), Charles Dance (Lord Raymond Stockbridge), Jeremy Northam (Ivor Novello), Kelly MacDonald (Mary Maceachran), Clive Owen (Robert Parks), Helen Mirren (Mrs Wilson), Emily Watson (Elsie), Richard E. Grant (George)
An upstairs-downstairs mystery of sorts, focusing on a group of wealthy people and the servants who are assembled at a country house for a dinner, only for the host to be murdered by one of the contingent following the meal.
Though a whodunit is a plot device in this costume drama, the film focuses more on the contrasting statuses between the upper and working classes at the same abode over the course of a weekend.
The casting choices and performances are all excellent, but the film does meander along at far too pedestrian a pace, which may suit some, but it really does go on for at least half an hour too long, and the murder mystery is merely an appendage to a lot of meaningless chatter.
The success of the film, both commercially and critically, saw the inspiration of Downton Abbey, a TV spinoff of sorts, also penned by screenwriter Julian Fellowes.
7/10