Good Morning, Vietnam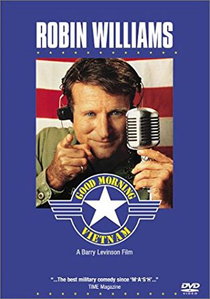 GOOD MORNING, VIETNAM (15)
Buena Vista/Touchstone (Mark Johnson & Larry Brezner)
Robin Williams (Adrian Cronauer), Forest Whitaker (Eddie Garlick), Tung Thanh Tran (Tuan), Chintara Sukapatana (Trinh), Bruno Kirby (Steven Hauk), Robert Wuhl (Marty Dreiwitz), J.T. Walsh (Maj. Phillip Dickerson)
Robin Williams truly launched his career with his performance as Adrian Cronauer, an eccentric disc jockey in 1965 wartorn Saigon who begins each broadcast with the immortal cry "Good Morning, Vietnam!"         
Despite being loved by the troops, he is abhorred by the superior officers who attempt to remove his show from the airwaves.
The film is worth watching merely for Williams' mesmeric performance, who ad-libbed most of the dialogue and gave arguably his most iconic screen performance.
7/10