Gone Baby Gone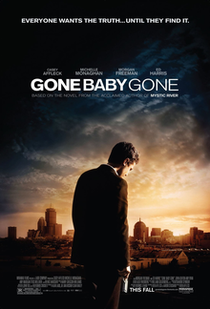 GONE BABY GONE (15)
D: Ben Affleck
Miramax (Sean Bailey, Dan Rissner & Alan Ladd, Jr.)
W: Ben Affleck & Aaron Stockard [based on the novel by Dennis Lehane]
Mus: Harry Gregson-Williams
Casey Affleck (Patrick Kenzie), Michelle Monaghan (Angie Gennero), Ed Harris (Sgt. Remy Bressant), Morgan Freeman (Capt. Jack Doyle), John Ashton (Det. Nick Poole), Amy Ryan (Helene McCready), Amy Madigan (Bea McCready)
Ben Affleck's directorial debut is a moody crime thriller, based on a novel by Dennis Lehane, the same author of Mystic River, which was brought to the screen by Clint Eastwood in 2003.
In a working class Boston suburb, the daughter of a drug addict is kidnapped and the child's aunt hires a private investigator to talk to the dissolute residents who are less trustworthy of the police, leading to an intriguing mystery which leads to a complex moral dilemma in the melodramatic gripping final act.
The subject matter saw the film's release postponed in Britain, where a real-life kidnapping case was hugely publicised around the same time.
Though this story has nothing to do with the McCann investigation, it's still a narrative which cuts deep and will leave you thinking about what really is the right thing to do when an unpleasant truth rears its head.
The ensemble cast are excellent, but all the plaudits belong to Amy Ryan, whose performance as the junkie, foul-mouthed, white-trash mother is the particular standout.
8/10