Godzilla (1998/2014)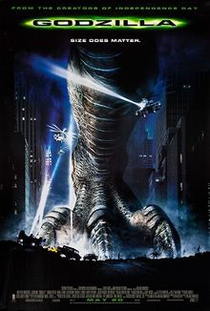 GODZILLA (PG)
Columbia Tristar/Centropolis/Fried (Dean Devlin)
Adventure/Science Fiction
W: Roland Emmerich & Dean Devlin
Ed: Peter Amundson & David J. Siegel
Matthew Broderick (Dr. Niko Tatopolous), Jean Reno (Philippe Roche), Hank Azaria (Victor Palotti), Maria Pitillo (Audrey Timmonds), Kevin Dunn (Col. Anthony Hicks), Michael Lerner (Mayor Ebert)
"Size does matter" according to the movie's tagline, so director Roland Emmerich brings as much havoc as possible to New York City when the gargantuan lizard Godzilla journeys to American shores from the Pacific (surely Los Angeles would be a more likely landing spot).
Full of all the usual cliches, hackneyed dialogue and stereotypic characters, Godzilla becomes a Jurassic Park clone when little baby Godzillas invade Madison Square Garden.
None of the performances make you pray for a human victory, while Maria Pitillo seems to think she's acting in a TV sitcom.
Size may not matter, but a decent story does.
4/10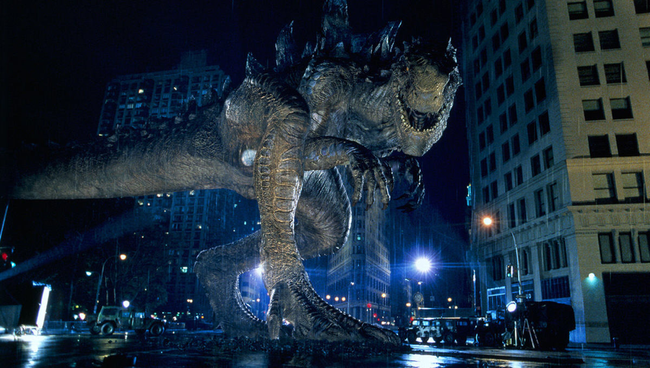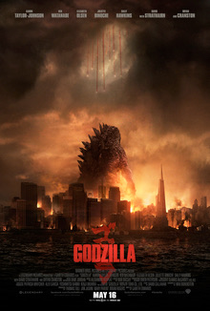 GODZILLA (12)
Warner Bros/Legendary (Thomas Tull, Jon Jashni, Mary Parent & Brian Rogers)
W: Max Borenstein [based on characters created by Toho]
Aaron Taylor-Johnson (Ford Brody), Ken Watanabe (Dr. Ishiro Serizawa), Elizabeth Olsen (Elle Brody), Juliette Binoche (Sandra Brody), Sally Hawkins (Dr. Vivienne Graham), Bryan Cranston (Joe Brody)
This 2014 remake of the Japanese monster classic returns to it's roots (kind of) in showing Godzilla's Oriental origins following pacific nuclear testing in the 1950's and has the opening scenes set in Japan. This won't do for the interest of American audiences and so the action moves swiftly along to the west coast of America where giant prehistoric bugs are tearing San Francisco a new one. Godzilla finally pops up around halfway through the movie and saves America because their military forces are clearly inept at doing so.      
Despite some impressive special effects, this film is a gargantuan mess, throwing a load of scenes together without any cohesion in the story and amassing a wealth of talented actors only to throw most of them away after a couple of scenes without developing any characters or making them integral to the plot.
The 1998 version was pretty poor, but at least it was fun!
4/10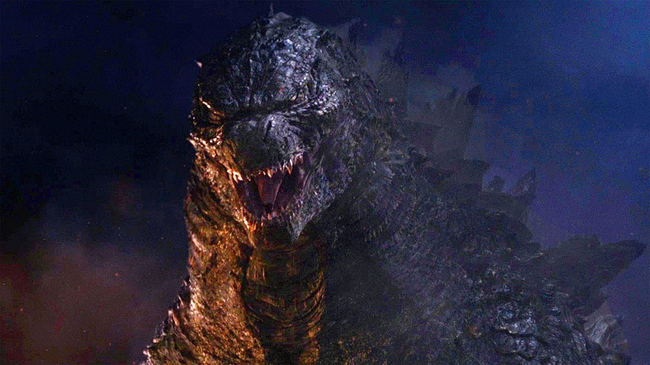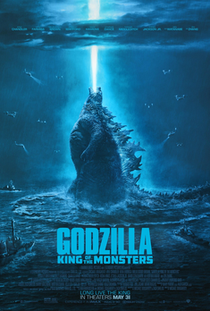 GODZILLA: KING OF THE MONSTERS (12)
D: Michael Dougherty
Warner Bros/Toho/Legendary (Mary Parent, Alex Garcia, Thomas Tull, Jon Jashni & Brian Rogers)
USA 🇺🇸 2019
132 mins
Action/Science Fiction
W: Michael Dougherty & Zach Shields [based on characters created by Toho]
DP: Lawrence Sher
Ed: Roger Barton, Richard Pearson & Bob Ducsay
Mus: Bear McCreary
Kyle Chandler (Dr. Mark Russell), Vera Farmiga (Dr. Emma Russell), Millie B. Brown (Madison Russell), Ken Watanabe (Dr. Ishiro Serizawa), Bradley Whitford (Dr. Rick Stanton), Sally Hawkins (Dr. Vivienne Graham), Charles Dance (Alan Jonah)
As the world recovers from the events in the 2014 movie, a mercenary group attack a crypto-zoological government agency, which leads to the subsequent release of a host of giant monsters, including Godzilla, and they fight each other for the title of King of the Monsters.
First off, I really wasn't a fan of the 2014 movie, but this was absolutely terrible. Bogged with scene after scene of exposition which drag the movie down to a suicidal pace, and though some of the visual effects are impressive, the action movies are too sporadic and really don't do enough to regenerate interest before the human characters drag it down once again into talking heads rubbish.
This may find some appreciation with those who enjoyed the 2014 movie, but I would name this amongst the worst films of 2019.
A further sequel is planned, with Godzilla taking on King Kong.
4/10