Gods & Monsters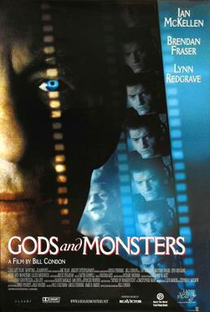 GODS & MONSTERS (15)
D: Bill Condon
Lionsgate/Showtime/Regent/BBC (Paul Colichman, Gregg Fienberg & Mark R. Harris)
UK/US 🇬🇧🇺🇸 1998
105 mins
Biopic/Drama
W: Bill Condon [based on the book "Father Of Frankenstein" by Christopher Bram]
DP: Stephen M. Katz
Ed: Virginia Katz
Mus: Carter Burwell
Ian McKellen (James Whale), Brendan Fraser (Clayton Boone), Lynn Redgrave (Hanna), Lolita Davidovich (Betty), David Dukes (David Lewis), Kevin J. O'Connor (Harry)
Gods & Monsters is a biopic that focuses on Frankenstein director James Whale's final days leading up to his suicide in 1957.
Retired from filmmaking for over a decade, Whale (Ian McKellen) becomes reclusive and in rather poor health after suffering a series of strokes. Spending his days being cared for by his longtime housemaid Hanna (Lynn Redgrave), he becomes infatuated with a handsome gardener, Clayton Boone (Brendon Fraser).
The three principal leads are all excellent, especially Ian McKellen as James Whale and Lynn Redgrave as Hanna, who seems devoted to her employer but still disapproves of his homosexuality.
Much of the runtime focuses on the relationship between Whale and Boone, though there are some flashbacks to Whale's youth, as well as discussions over his filmmaking and Hollywood circles, but these scenes are few and far between.
Personally, I would have preferred a biopic that featured more of the director's achievements, but I can't deny that it's a well acted drama with some fine dialogue. It will obviously mean a lot more to some people who are struggling with the sexual identity.
7/10