Gilda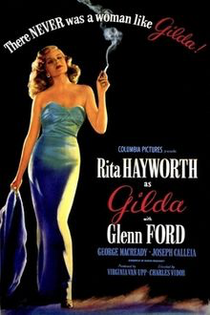 GILDA (PG)
D: Charles Vidor
Columbia (Virginia Van Upp)
USA 🇺🇸 1946
110 mins 
Drama/Crime
W: Marion Parsonnet
DP: Rudolph Mate
Ed: Charles Nelson
Mus: Hugo Friedhofer
PD: Stephen Goosson & Van Nest Polglase
Cos: Jean Louis
Rita Hayworth (Gilda Mundson), Glenn Ford (Johnny Farrell), George Macready (Ballin Mundson), Joseph Calleia (Obregon), Steven Geray (Uncle Pio)
Classic film-noir, perhaps given even more immortality by its homage in The Shawshank Redemption, although it's Rita Hayworth's scintillating performance which holds up better than the 1940's dialogue.
Glenn Ford gives one of his finest performances as the male lead, Johnny Farrell, a gambler who starts working for a casino owner in South America and makes the startling discovery that his old flame, Gilda, is now married to his dangerous new boss.
The beautiful Gilda, quite enjoys playing her games with her two love interests, as well as the audience, as her mere appearance lights up every scene she's in, particularly her smoking hot introduction, which has become an iconic cinema moment in itself.
The plot is clearly trying to emulate Casablanca, which is where it finds its shortcomings, and though some of the elements feel bound to the period, it still has to be considered a golden age classic of the genre.
8/10