Gigi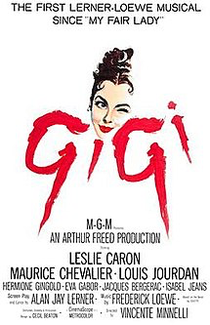 GIGI (U)
D: Vincente Minnelli
MGM (Arthur Freed)
USA 🇺🇸 1958
119 mins
Musical
W: Alan Jay Lerner [based on the novella by Colette]
DP: Joseph Ruttenberg
Ed: Adrianne Fazan
Mus: Andre Previn; Frederick Loewe & Alan Jay Lerner
PD: Cecil Beaton
Cos: Cecil Beaton
Leslie Caron (Gigi), Louis Jourdan (Gaston Lachaille), Maurice Chevalier (Honore Lachaille), Hermione Gingold (Madame Alvarez)
A classic it may we'll be, but it's no My Fair Lady. Set in Paris at the turn of the 20th Century, a young beautiful woman is trained by her aunt to be a woman of high society. 
The story practically apes George Bernard Shaw's Pygmalion, but with a French twist. Maurice Chevalier doing what he does best, while the demure Leslie Caron lights up the screen whenever she appears on it.
The songs are all wonderful, the sets are lavish, the costumes are beautiful and the cinematography makes it look a lot fresher than 60 years old. It will have its fans, who will doubtless adore every second of it, but if you don't like musicals it really won't have a lot of appeal.
7/10