Giant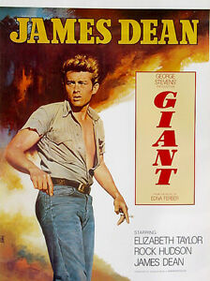 GIANT (PG)
D: George Stevens
Warner Bros. (George Stevens & Henry Ginsberg)
W: Fred Guiol & Ivan Moffat [based on the novel by Edna Ferber]
Ed: William Hornbeck, Fred Bonahan & Philip W. Anderson
Cos: Marjorie Best & Moss Mabry
Elizabeth Taylor (Leslie Benedict), Rock Hudson (Bick Benedict), James Dean (Jett Rink), Carroll Baker (Luz Benedict II), Jane Withers (Vashti Snythe), Chill Wills (Uncle Bawley), Mercedez McCambridge (Luz Benedict), Sal Mineo (Angel Obregon II), Dennis Hopper (Jordan Benedict II)
Edna Ferber's family saga about three generations on a cattle ranch gets the sprawling epic treatment, akin to Gone With The Wind.
Directed on a grand scale, with some very good performances, but far too long.
It has the distinction of being James Dean's final movie before his premature death, and in that respect, it's a fine swansong.
8/10