G.I. Joe (1 & 2)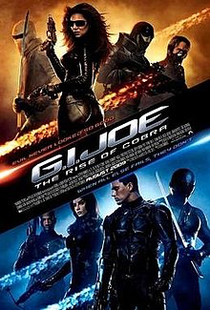 G.I. JOE: THE RISE OF COBRA (12)
Paramount/Spyglass/Hasbro (Lorenzo di Bonaventura, Bob Ducsay & Brian Goldner)     
W: Stuart Beattie, David Elliott & Paul Lovett [based on characters created by Hasbro]
Channing Tatum (Duke), Marlon Wayans (Ripcord), Sienna Miller (The Baroness), Christopher Eccleston (Destro), Joseph Gordon-Levitt (Cobra Commander), Lee Byung-Hun (Storm Shadow), Rachel Nichols (Scarlett), Ray Park (Snake Eyes), Adewale Akinnuoye-Agbaje (Heavy Duty), Dennis Quaid (Hawk)
It was inevitable that after Transformers hit the cinemas that another of the cartoon series of the 1980's would get the big screen treatment. This movie however is not a faithful rendering of that childhood favourite. The screenwriters obviously didn't watch the cartoon and clearly used wikipedia to do their research.
Stephen Sommers' direction is as ham-fisted as Steven E. de Souza's effort on the Streetfighter movie, but where de Souza can be forgiven for being a directorial debutante, Sommers had pedigree, having directed the first two Mummy movies. The action scenes are very badly photographed & edited, so much so that it's difficult to tell what's going on. The visual effects aren't terrible but are terribly visualised, most of the action takes place in darkness and shadow. The only watchable set piece is the Paris scene which goes on and on like a Peter Griffin chicken fight.
The casting is completely uninspired. Dennis Quaid does his best with what little dialogue he's given, whilst Channing Tatum gives Keanu Reeves a run for his money as the most wooden action performance of all time. Marlon Wayans is irritatingly miscast and the less said about Sienna Miller the better. Everyone else just seems to be there to pick up a paycheck and a credit.
Having nothing to do with its source material, this becomes just another generic action movie with yet another way to destroy Paris. America 1 France 0... Yeah, Go Joe!
4/10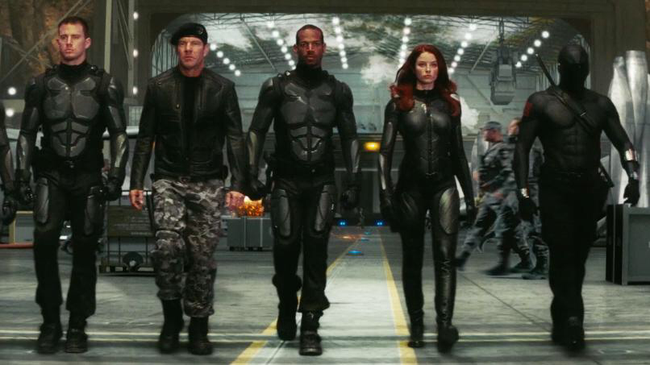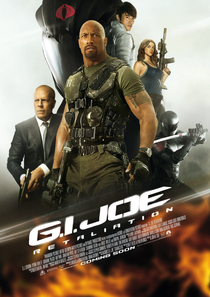 G.I. JOE: RETALIATION (12)
Paramount/MGM/Spyglass/Hasbro (Lorenzo di Bonaventura & Brian Goldner)                 
W: Rhett Reese & Paul Wernick [based on characters created by Hasbro]
Ed: Roger Barton & Jim May
Dwayne Johnson (Roadblock), Bruce Willis (Gen. Joseph Colton), D.J. Cotrana (Flint), Byung-Hun Lee (Storm Shadow), Adrienne Palicki (Lady Jaye), Ray Park (Snake Eyes), Channing Tatum (Duke)
This sequel isn't much better than the first film (The Rise Of Cobra), but it generally captures the essence of the cartoons, features some lively action scenes and even has the balls to kill off some major characters.  Still, the script is rather terrible and very lazily written. The screenwriters really didn't do enough research into this at all, settling on a generic action film with no real links to it's source material. It's also a complete waste of Bruce Willis.
4/10