Ghost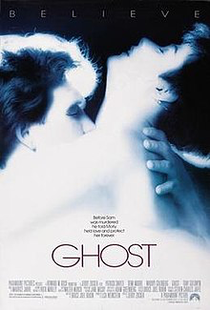 GHOST (15)
Paramount/Koch (Lisa Weinstein)
W: Bruce Joel Rubin
Mus: Maurice Jarre
Patrick Swayze (Sam Wheat), Demi Moore (Molly Jensen), Whoopi Goldberg (Oda Mae Brown), Tony Goldwyn (Carl Bruner), Rick Aviles (Willie Lopez), Gail Boggs (Louise Brown), Armelia McQueen (Clara Brown), Vincent Schiavelli (Subway Ghost)
A love story which made women all over the world cop and swoon is made accessible to make audiences by having a thriller subplot thrown into it's supernatural backbone.
Patrick Swayze plays yuppie stockbroker Sam Wheat, who moves into a new apartment with his girlfriend, Molly, but as the paint is still drying in their new home, Sam is murdered, leaving Molly a grieving wreck while Sam is stuck in limbo of walking the Earth as a ghostly spirit, attempting to solve his murder from the other side with the aid of a bogus medium (a scene stealing Whoopi Goldberg).
Sometimes silly, sometimes soppy, Ghost has the right mix of ingredients to make a successful movie, with the added bonus of appealing to either sex, although the end will have the female half of the audience weeping while all the men will gleefully enjoy the "revenge is good for the soul" moral. A surprise smash of 1990, receiving a Best Picture Oscar nomination in the process and winning two awards (Supporting Actress & Original Screenplay).         
8/10