Get Smart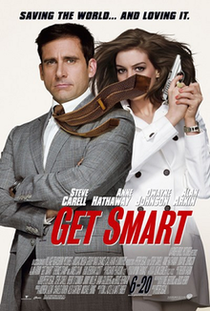 GET SMART (12)
D: Peter Segal
Warner Bros/Village Roadshow/Mosaic Media/Mad Chance/Atlas (Leonard B. Stern, Alex Gartner, Charles Roven, Andrew Lazar & Michael Ewing)
USA 🇺🇸 2008
110 mins
Comedy/Action/Thriller
W: Tom J. Astle & Matt Ember [based on the television series created by Mel Brooks & Buck Henry]
DP: Dean Semler
Ed: Richard Pearson
Mus: Trevor Rabin
Steve Carell (Max Smart / Agent 86), Anne Hathaway (Agent 99), Dwayne Johnson (Agent 23), Alan Arkin (The Chief), Terence Stamp (Siegfried)
Taking its inspiration from a television series which ran from 1965-1970, this spy spoof stars Steve Carell as Max Smart, a government analyst who turns field agent when a potential terrorist attack rears its head.
Accompanying Smart on his mission is Agent 99 (Anne Hathaway), who also doubles up as a love interest as the plot thickens.
Overall, this is an enjoyable caper, though the comedy isn't consistent and it's clear that much of the dialogue was improvised and several scenes pieced together in the editing room, still it works due to the on-screen partnership of Carell and Hathaway, who do make a fine double act.
It isn't as smart as it could have been, but there are much worse ways to spend 110 minutes.
6/10