Get Shorty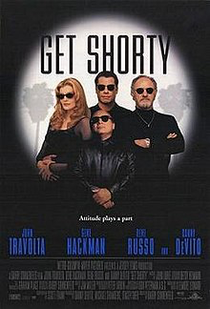 GET SHORTY (15)
MGM/Jersey Films (Michael Shamberg, Danny DeVito & Stacey Sher)
W: Scott Frank [based on the novel by Elmore Leonard]
John Travolta (Chili Palmer), Rene Russo (Karen Flores), Gene Hackman (Harry Zimm), Danny DeVito (Martin Weir), Dennis Farina (Ray 'Bones' Barbone), Delroy Lindo (Bo Catlett), James Gandolfini (Bear)
Get Shorty is a film which went down well with film critics but wasn't so well received by the mainstream audiences. It probably helps if you're a film buff, since the comedy's main joke is to poke fun at Hollywood.
John Travolta plays Miami loan shark for the mob, Chili Palmer, who follows a bad debtor to the Californian Coast and gets himself involved in showbiz as a film producer.
Based on Elmore Leonard's novel, the film features snazzy characters, snappy dialogue and some very good performances, but it's also very understandable why some people didn't fall for its charms.
6/10