Get Out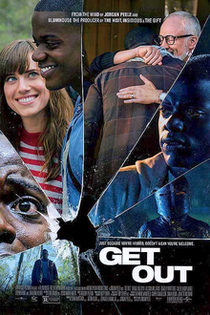 GET OUT(15)
D: Jordan Peele
Universal/Blumhouse/Monkeypaw (Sean McKittrick, Jason Blum, Edward H. Hamm, Jr. & Jordan Peele)
USA 🇺🇸 2017
104 mins
Horror/Comedy
W: Jordan Peele
DP: Toby Oliver
Ed: Gregory Plotkin
Mus: Michael Abels
Daniel Kaluuya (Chris Washington), Allison Williams (Rose Armitage), Bradley Whitford (Dean Armitage), Catherine Keener (Missy Armitage)
Guess Who's Coming To Dinner meets The Stepford Wives for this satirical horror movie from debutante director Jordan Peele.
Photographer Chris Washington reluctantly goes to his girlfriend's rural retreat for the weekend, asking before the trip if they're aware that he's black. Her nonchalant reply is that they're open-minded liberals who "would have voted Obama a third term if they could." 
On his arrival, Chris finds the parents a tad inappropriate, but things become even more sinister when the mother of the family hypnotises him under the guise of helping him quit smoking.
As a modern spin on Ira Levin's The Stepford Wives, Get Out really does work quite well, and is certainly amongst the cleverer Hollywood horror movies released in recent times. As a satire of liberal racism, it really is an acquired taste. Some people will find it controversial, some people won't. The overall result is quite clever, but it really isn't as much as it wishes it was, especially with the director's comments that he considers the film to be a documentary. Oh, please...
7/10