Gentleman's Agreement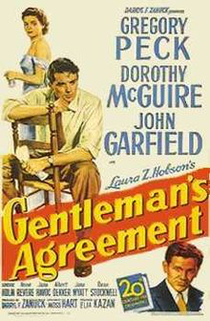 GENTLEMAN'S AGREEMENT (U)
D: Elia Kazan
20th Century Fox (Darryl F. Zanuck)
USA 🇺🇸 1947
118 mins
Drama
W: Moss Hart [based on the novel by Laura Z. Hobson]
DP: Arthur Miller
Ed: Harmon Jones
Mus: Alfred Newman
Gregory Peck (Philip Schuyler Green), Dorothy McGuire (Kathy Lacey), John Garfield (Dave Goldman), Celeste Holm (Anne Dettrey), Anne Revere (Mrs. Green), Albert Dekker (John Minify)
Though this 1947 Best Picture Oscar winner is quite dated in its execution, the message that it conveys is still very much relevant.
Journalist Philip Schuyler Green (Gregory Peck) moves to New York with his mother and son and is given the task of writing an article on anti-semitism. As a writer whose best work has come from experiencing things first hand, he feigns Jewish heritage to see how differently people treat him and gets deeply involved in his project, even to the point that it causes tensions amongst his family and a rift between himself and love interest Kathy Lacey (Dorothy McGuire).
At its heart, Gentleman's Agreement is a very powerful story, with some impressive performances from a solid ensemble cast. The love story feels a little forced, but one has to remember that it was from an era where almost every film had to include an element of romance. The story itself could possibly make a great modernisation, with a little bit of fine tweaking.
7/10