Garfield (1 & 2)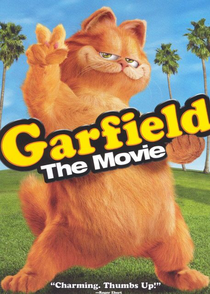 GARFIELD: THE MOVIE (PG)
20th Century Fox (John Davis)
W: Joel Cohen & Alec Sokolow [based on the comic strip created by Jim Davis]
Ed: Peter Berger & Michael A. Stevenson
Breckin Meyer (Jon Arbuckle), Jennifer Love Hewitt (Liz Wilson), Stephen Tobolowsky (Happy Chapman)
voices of: Bill Murray (Garfield), Nick Cannon (Louis), Alan Cumming (Persnikitty), David Eigenberg (Nermal)
The laconic, lasagne-loving cat from Jim Davis' comic strip gets his big screen outing in this live action disaster featuring a poorly animated cat.
Bill Murray was the perfect pick to voice the character, but little effort went into the rest of the production, including a lacklustre script which will provide adequate entertainment for the under 8's but very little for everyone else.
An even weaker sequel, Garfield: A Tail Of Two Kitties, hit the screens two years later.
4/10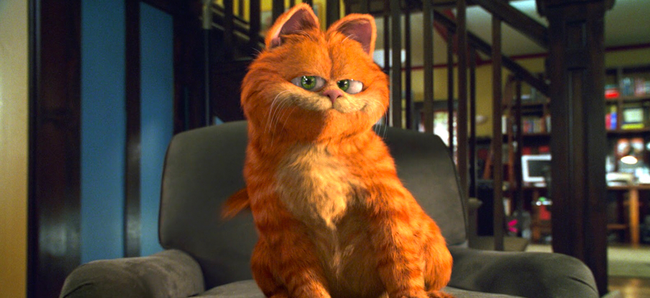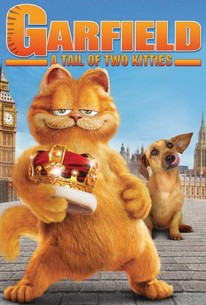 GARFIELD: A TAIL OF TWO KITTIES (aka GARFIELD 2) (PG)
20th Century Fox (John Davis)
W: Joel Cohen & Alec Sokolow [based on the comic strip created by Jim Davis]
DP: Peter Lyons Collister
Breckin Meyer (Jon Arbuckle), Jennifer Love Hewitt (Liz Wilson), Billy Connolly (Lord Dargis)
voices of: Bill Murray (Garfield), Tim Curry (Prince XII), Bob Hoskins (Winston), Rhys Ifans (McBunny)
Following in the footsteps of the first movie by having Bill Murray's voice give the cartoon cat some personality but the script lacks any jokes to make anybody over the age of 10 laugh. The cartoon cat looks awful for a big budget Hollywood studio movie made in 2006.
For young kids only. Adults needn't bother.
3/10