Garden State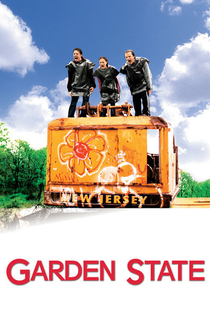 GARDEN STATE (12)
D: Zach Braff
Miramax/Fox Searchlight/Camelot/Jersey Films (Gary Gilbert, Dan Halsted, Pamela Abdy & Richard Klubeck)
USA 🇺🇸 2004
102 mins 
Comedy/Romance
W: Zach Braff
DP: Lawrence Sher
Ed: Myron Kerstein
Mus: Chad Fisher
Zach Braff (Andrew Largeman), Natalie Portman (Samantha), Peter Sarsgaard (Mark), Ian Holm (Gideon Largeman), Jean Smart (Carol)
With his popularity soaring due to the television sitcom Scrubs, Zach Braff wrote, directed and stars in this charming semi-autobiographical comic drama in his native New Jersey.
He plays a depressed Hollywood actor who returns home following the death of his mother and reunites with some friends and family for the first time since his departure and also finds time to embark on a romantic relationship with Samantha, who seems to be the only person about town who empathises with him.
Braff's script is reasonably well-written, with quirky characters and sharp dialogue, but the plot of the film is all quite sketchy, like a series of skits which don't quite all tie together particularly neatly. It's still worth a watch though.
6/10