Galaxy Quest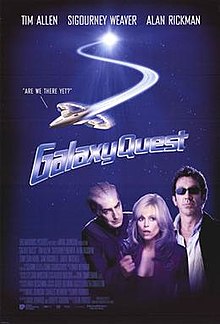 GALAXY QUEST (PG)     
Dreamworks (Mark Johnson & Charles Newirth)
W: David Howard & Robert Gordon
Tim Allen (Jason Nesmith / Cmdr. Peter Quincy Taggart), Sigourney Weaver (Gwen DeMarco / Lt. Tawny Madison), Alan Rickman (Alexander Dane / Dr. Lazarus), Tony Shalhoub (Fred Kwan / Sgt. Chen), Sam Rockwell (Guy Fleegman), Daryl Mitchell (Tommy Webber / Lt. Laredo), Enrico Colantoni (Mathesar), Robin Sachs (Sarris)
Pretty much a one-joke movie which pokes fun at the world of Star Trek. The series, it's fans and the world of conventions.
Tim Allen, Sigourney Weaver, Alan Rickman and others are former stars of the cult TV show Galaxy Quest, but now ply their trade living off their past glories and charging fans for autographs at conventions. They are then abducted by an alien species who believe footage of the TV series to actually be factual, and count on the Galaxy Quest cast to save them from an intergalactic war.         
Tongue firmly in-cheek, this film may only have one real joke to run with but it does it very well and with far more invention and intelligence than most other spoofs.
Trekkies may not appreciate that they're the ones being poked fun at, but everyone else should find this refreshingly enjoyable.