The French Connection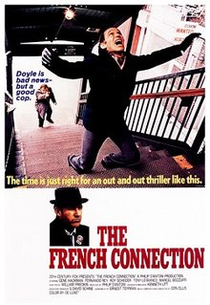 THE FRENCH CONNECTION (18)
D: William Friedkin
20th Century Fox (Philip D'Antoni)
W: Ernest Tidyman [based on the book by Robin Moore]
DP: Owen Roizman
Ed: Jerry Greenberg
Gene Hackman (Jimmy 'Popeye' Doyle), Fernando Rey (Alain Charnier), Roy Scheider (Buddy Russo), Tony LoBlanco (Sal Boca), Marcel Bozzufi (Pierre Nicol), Frederic de Pasquale (Devereaux), Bill Hickman (Mulderig)
Seminal crime thriller which focuses on gritty realism, putting tough narcotics cop James "Popeye" Doyle on the case to investigate a consignment of drugs entering the country.
William Friedkin sets a template for others to follow with his grittily realistic vision, showing the seedy side of New York and portraying a hero who breaks the rules to get results, brilliantly played by Gene Hackman, who deservedly won an Oscar for the performance.
The director also goes one better than the memorable car chase he brought to the screen in Bullitt (qv), this time with an iconic car chase which involves an elevated railway, which is worth sitting through the rest of the film for alone.
A landmark crime picture and absolute classic of 1970's cinema.
10/10