The First Great Train Robbery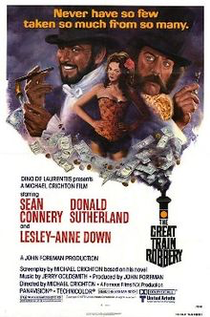 THE FIRST GREAT TRAIN ROBBERY (aka THE GREAT TRAIN ROBBERY) (15)
United Artists/Starling (John Foreman) 
W: Michael Crichton [based on his novel]
DP: Geoffrey Unsworth
Sean Connery (Edward Pierce), Donald Sutherland (Agar), Lesley-Anne Down (Miriam), Alan Webb (Trent), Robert Lang (Sharp), Malcolm Terris (Henry Fowler)
Though inspired by true events, this film, from writer-director Michael Crichton (from his novel), is complete fiction.
Connery plays a dapper Victorian gent, who masterminds a plan to rob a train carrying gold to those fighting in the Crimean War. The initial plot involves him and pickpocket locksmith Donald Sutherland locating and cloning four keys which open the on-board safe.
Overall, this historical crime caper is good fun, but would have been a much better film had it been played straight, rather than relying on slapstick and farce for comic effect in some scenes.
Geoffrey Unsworth's cinematography is absolutely impeccable.
The film is better known in some countries simply as "The Great Train Robbery".
6/10