The Farewell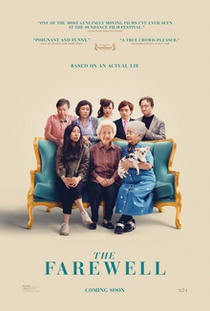 THE FAREWELL (PG)
D: Lulu Wang
A24/Big Beach/Depth Of Field/Kindred Spirit/Ray (Daniele Melia, Peter Saraf, Marc Turtletaub, Andrew Miano, Chris Weitz, Jane Zheng, Lulu Wang & Anita Gou)
US 🇺🇸 2019
100 mins
Drama/Comedy
W: Lulu Wang
DP: Anna Franquesa Solano
Ed: Michael Taylor & Matthew Friedman
Mus: Alex Weston
Awkwafina (Billi Wang), Tzi Ma (Haiyan Wang), Diana Lin (Lu Jian), Zhao Shuzhen (Nai Nai), Jiang Yongbo (Haibin)
A big deal was made when The Farewell failed to be nominated for an Oscars at the ceremony for films released in 2019, especially being snubbed for its screenplay or the foreign language film category due to certain technicalities. 
In fairness, it probably did deserve a mention in either of them categories, but for me, it wasn't amongst my personal favourites of the year, despite being a very nice comedy-drama and a labour of love for its writer-director Lulu Wang.
Based on her own family experiences, the film shows the perspective of a traditional Chinese family when the news comes to pass that Nai Nai, the family matriarch, is suffering a terminal illness.
The film studies a clash not just between members of a 'different' culture, but also highlights the generational differences within that. 
The cast are all excellent, especially Awkwafina as the daughter of the family who has grown up in America, but the best performance of the film belongs to Zhao Shuzhen as Nai Nai, who certainly deserved an Oscar nomination for her performance.
7/10