The Fanatic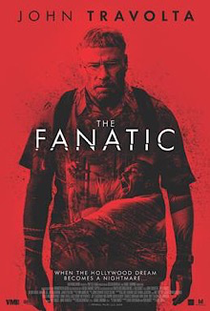 THE FANATIC (15)
D: Fred Durst
Quiver/Pretzel Fang/Media France Capital/Fig/Wonderfilm Media (Bill Kenwright, Daniel Grodnik & Oscar Generale)
US 🇺🇸 2019
88 mins
Thriller
W: Fred Durst & Dave Bekerman
DP: Conrad W. Hall
Ed: Malcolm Crowe & Nik Voytas
Mus: Gary Hickeson & John Swihart
John Travolta (Moose), Devon Sawa (Hunter Dunbar), Ana Golija (Leah), James Paxton (Slim), Jacob Grodnik (Todd)
There are good films, there are bad films and there are films like The Fanatic, which can't even get the fundamentals of filmmaking structure right.
Written and directed by Fred Durst, the frontman of the rock band, Limp Bizkit, and said to be based on some real experiences, the film follows a crazed fan who takes his obsession with an action movie star a few steps too far.
John Travolta plays Moose, an autistic fan who the plot centres around, but it has to be said that the treatment of autism is terribly done here, not helped by Travolta's ridiculously over-the-top performance and pathetic wig. Still, I don't think the finest quality acting could save the poor writing character, which was flawed at basic script level.
Devon Sawa plays the object of Moose's attention, but his character comes across as a complete arsehole who pretty much gets what he deserves.
The film has many problems, all of which can be traced back to the script, which feels like a first draft hastily pushed into production.
It's unintentionally hilarious, but not in a "so bad, it's good" way.
1/10