Fury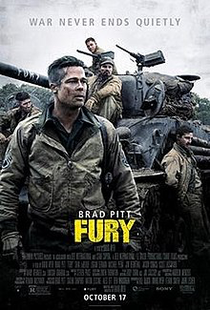 FURY (15)
Columbia/Le Grisbi/QED (Bill Block, John Lesher, Alex Ott, Ethan Smith, Brad Pitt & David Ayer)
Ed: Dody Dorn & Jay Cassidy
Brad Pitt (SSG Don 'Wardaddy' Collier), Jon Bernthal (PFC Grady 'Coon Ass' Travis), Shia LaBeouf (Boyd 'Bible' Swan), Logan Lerman (Pvt. Norman 'Machine' Ellison), Michael Peña (Cpl. Trini 'Gordo' Garcia), Jason Isaacs (Cpt. 'Old Man' Waggoner)
Fury was promoted as a realistic, gritty war film on its release, and though the action scenes are well directed, with frenetic editing and sound cranked up to eleven, less care and attention was served to the cliché-ridden plot and underwritten characters.
Brad Pitt plays the leader of an allied troop who take control of a German tank and trudge through the war-torn countryside killing Nazis. A new member to the outfit is a young replacement gunner, who the rest of the soldiers plan to make a man out of by the time the war is through.
Unfortunately, this is less a band of brothers and more a band of boys, taking to war with all the grace of a teenager going through puberty.
It's a war film without a good guy, and the lack of which makes it difficult to root for the protagonists. It may actually be one of the WWII films where you want the Germans to win.
5/10