Funny Games (1997/2007)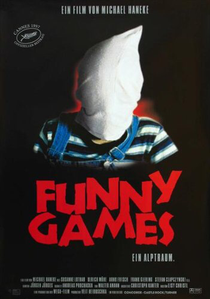 FUNNY GAMES (18)
D: Michael Haneke
Metro Tartan/Wega (Veit Heiduschka)
Austria/Germany 🇦🇹 🇩🇪 1997
Susanne Lothar (Anna), Ulrich Mühe (George), Frank Giering (Peter), Arno Frisch (Paul), Stefan Clapczynski (George, Jr.)
It's recommended to watch this version rather than the shot-for-shot English language remake, which changes absolutely nothing and only dilutes the shocking power of this original.
It's an awkward, uncomfortable horror film with an anti-Hollywood commentary running through it, as director Haneke continues his fascination with violence in the movies which he explored in his previous work.
A married couple and their son in their family home by a lake find themselves terrorised by two strangers who treat their sadistic behaviour as a game as they torture the family and threaten their lives.
The film masterfully builds tension until the third act when it almost becomes impossible to take seriously, becoming a polemic about Hollywood audiences attitudes towards gratuitous violence.
Creepy and disturbing, you're sure to have seen nothing else quite like it.
7/10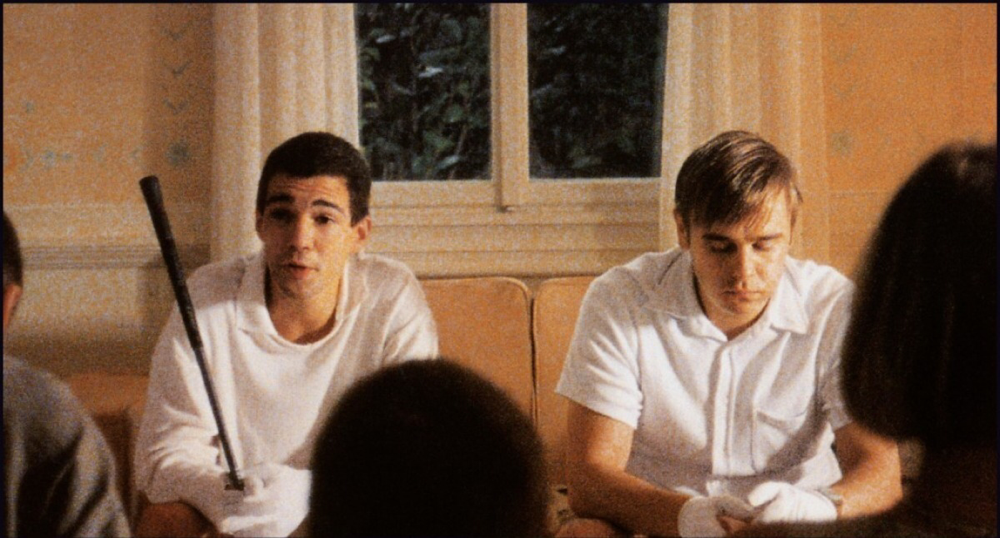 FUNNY GAMES (aka FUNNY GAMES U.S.) (18)
Warner Independent/Metro Tartan/Film 4 (Chris Coen, Hamish McAlpine, Hengameh Panahi, Christian Baute & Andro Steinborn)     
USA/UK/Austria/France/Germany 🇺🇸 🇬🇧 🇦🇹 🇫🇷 🇩🇪 2007
W: Michael Haneke [from his 1997 film screenplay]
Naomi Watts (Ann), Tim Roth (George), Devon Gearhart (George, Jr.), Michael Pitt (Paul), Brady Corbet (Peter)
Michael Haneke remakes his own 1997 film for Hollywood audiences, which seems to nullify the point that the very anti-Hollywood original tried to make, though this would cater for those who simply refuse to sit through a film with subtitled dialogue.
The story itself is truly disturbing, suspenseful, thrilling and very uncomfortable to watch. A married couple (Roth & Watts) take their son & dog to their holiday lake house, where they are held hostage by two disturbed, psychopathic young men who want to play anything but "funny games".
It isn't too dissimilar to Sam Peckinpah's Straw Dogs (qv) with a genuine art house feel, but the movie changes with a surprise twist and becomes a polemic towards violence in the movies in it's final act, which, while unexpected if you haven't seen the original, worked much better in the 1997 version.
Naomi Watts is very good as the tormented housewife and all the other performances can't be faulted, especially the two young men (Corbet & Pitt), who are thoroughly detestable. 
American remakes of foreign language films normally lessen the impact of the original films (a good example would be George Sluizier remaking his own film, The Vanishing), and while this is nowhere near as chilling as the 1997 film, it isn't terrible either.
6/10