Frozen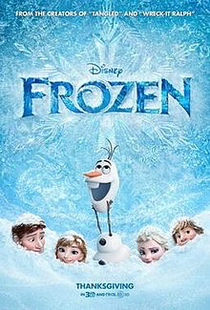 FROZEN (PG)
D: Chris Buck & Jennifer Lee
W: Chris Buck, Jennifer Lee & Shane Morris [based on the story "The Snow Queen" by Hans Christian Andersen]
Mus: Christophe Beck; Robert Lopez & Kristen Anderson-Lopez
voices of: Kristen Bell (Anna), Idina Menzel (Elsa), Jonathan Groff (Kristoff), Josh Gan (Olaf), Santino Fontana (Hans)
I just didn't seem to enjoy this as much as the rest of the world. Sure it's great animation in the usual Disney style with the studio's twist on a fairytale with the usual princesses, hulking heroes, dastardly villains and talking animals (well, snowmen in this case) but what makes this the most successful Disney film ever exactly???
The teaser trailer had a walking, talking snowman named Olaf and a reindeer fighting over a carrot (Olaf's nose), but none of this comedy was in the film, instead it's an adaptation of a Hans Christian Anderson story where a newly coronated queen with magical powers hides in a fortress of solitude and makes her kingdom perennial winter while her sister is on a quest to break the curse. 
It was entertaining, but completely without comedy. I, for one, could have quite happily watched a whole film of tug-of-war over the carrot. 
The songs (and there are many of them) are grating and enchanting in equal measure. 'Let It Go' is a truly great Disney song, but some of the others are simply too twee.
Overall, I'd say it's a good family film, but it's so incredibly overrated.
6/10