Friday the 13th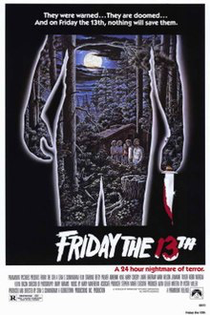 FRIDAY THE 13TH (18)
Georgetown (Sean S. Cunningham)
Adrienne King (Alice), Jeannine Taylor (Marcie), Harry Crosby (Bill), Kevin Bacon (Jack), Betsy Palmer (Pamela Voorhees)
Cheaply produced spot-the-stiff slasher flick set a summer camp (Camp Crystal Lake), brimful with ketchup-splodged murders but very little tension, mostly because the characters have little to no sympathetic value.
An entire franchise was born from this sole film, despite not actually showing the villain who provided the menace in later sequels.
Clearly, the filmmakers hoped that they could make a successful rip-off of Halloween, Carrie, and various other horror films without anyone noticing.
4/10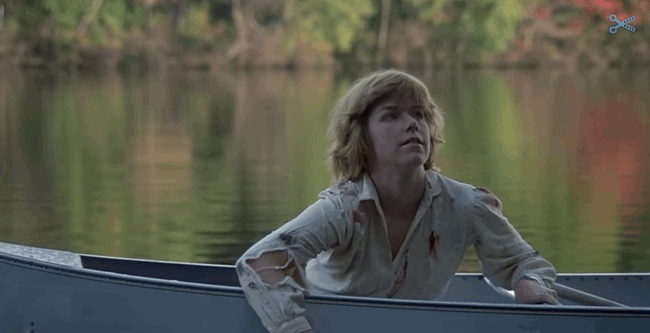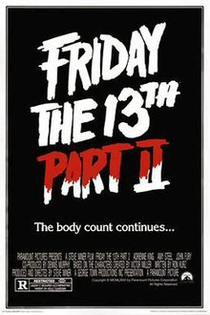 FRIDAY THE 13TH part 2 (18)
D: Steve Miner
Georgetown (Steve Miner)
USA 🇺🇸 1981
87 mins
Horror
W: Ron Kurz & Phil Scuderi [based on characters created by Victor Miller]
DP: Peter Stein
Ed: Susan E. Cunningham 
Mus: Harry Manfredini
Amy Steel (Ginny), John Furey (Paul), Stu Charno (Ted), Lauren-Marie Taylor (Vickie), Adrienne King (Alice), Steve Daskawisz / Warrington Gillette (Jason Voorhees)
Although this was rushed into production and distribution to capitalise on the success of the first movie, the events take place five years after the events in the original movie, with the sole survivor being murderer and the rest being a virtual remake, although this time the killer is actually Jason Voorhees.
It's obvious that this was rushed into production, and the filmmakers got themselves into hot water by casting an underage teenage girl, meaning that an entire scene had to be subject to heavy cuts (even though the "double impalement death" does appear on the cover of some home video versions).
It should be worth noting that Jason's iconic horror mask doesn't make an appearance until the third movie.
4/10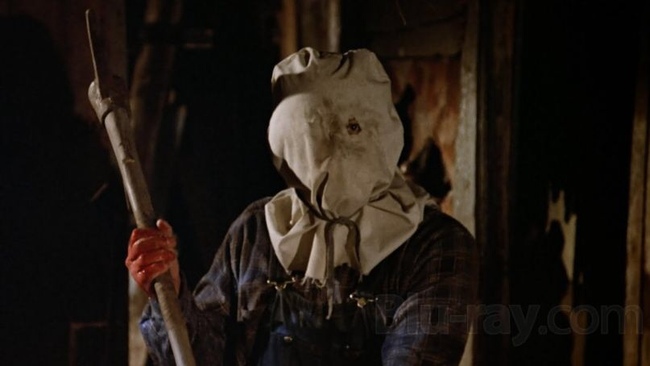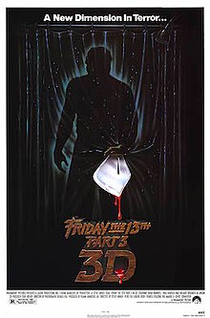 FRIDAY THE 13TH part 3 (18)
D: Steve Miner
Paramount/Jason Inc. (Frank Mancuso, Jr.)
USA 🇺🇸 1982
95 mins
Horror
W: Martin Kitrosser & Carol Watson [based on characters created by Victor Miller]
DP: Gerald Feil
Ed: George Hively
Mus: Harry Manfredini
Dana Kimmell (Chris Higgins), Paul Kratka (Rick), Tracie Savage (Debbie), Jeffrey Rogers (Andy), Richard Brooker (Jason Voorhees)
Jason Voorhees survived his apparent death at the conclusion of the second movie and continues terrorising kids at Camp Crystal Lake, this time in 3-D. 
It isn't any more or less scary (or interesting) as the first two movies, but it is worth noting that this is the sequel which introduced Jason's iconic hockey mask (following it's effective use in Alone In The Dark (also 1982)). Two films too late in my opinion, and it's difficult to care about such stupid victims. More cash-ins followed, all getting progressively worse.
4/10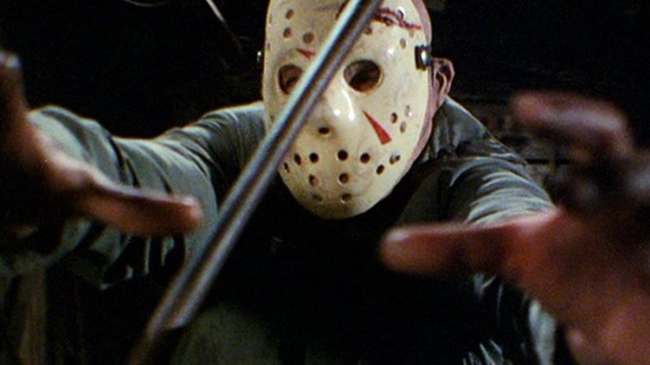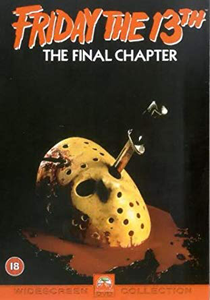 FRIDAY THE 13TH: THE FINAL CHAPTER (FRIDAY THE 13TH PART IV) (18)
D: Joseph Zito
Paramount (Frank Mancuso, Jr.)
USA 🇺🇸 1984
91 mins
Horror
W: Barney Cohen
DP: João Fernandes
Ed: Joel Goodman & Daniel Loewenthal
Mus: Harry Manfredini
Corey Feldman (Tommy Jarvis), Kimberly Beck (Trish Jarvis), E. Erich Anderson (Rob Dier), Barbara Howard (Sara), Joan Freeman (Mrs. Jarvis), Ted White (uncredited - Jason Voorhees)
The fourth film in the Friday The 13th series picks up immediately after the previous film, where hockey masked serial killer escapes from the morgue and goes on another killing spree.
Unfortunately, that's all the story there is as the film goes through a pathetic cycle of murder and sex scenes until it churns out a ridiculous ending.
The worst part is, this wasn't the final chapter. More sequels followed.
2/10