Frequency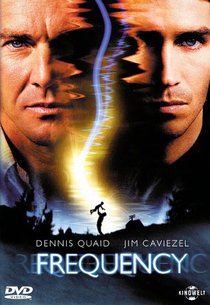 FREQUENCY (15)
New Line (Hawk Koch, Gregory Hoblit, Bill Carraro & Toby Emmerich)
W: Toby Emmerich
Dennis Quaid (Frank Sullivan), Jim Caviezel (Johnny Sullivan), Andre Braugher (Satch DeLeon), Elizabeth Mitchell (Julia Sullivan), Noah Emmerich (Gordon Hersch)
An ambitious science fiction which could be criticised for trying to take on too much with its "butterfly effect" psychics.
Queens cop John Sullivan finds his dad's old ham radio in the family home, hooks it up and is miraculously able to communicate with his late father who died 30 years previously.
He convinces his much missed father to escape via a different route from a warehouse fire which originally killed him, inadvertently setting up a series of events which mean a serial killer whose unsolved murders (which originally) ceased in the summer of 1969 continue, including that of John's mother.
The son & father put their efforts together to capture the killer on either side of the timeline. 
The film is much easier to follow with a pair of good performances from Jim Caviezel & Dennis Quaid, although much of the film relies heavily on baseball references and trivia, which may be lost on those who don't follow the sport.
7/10