Freddy Got Fingered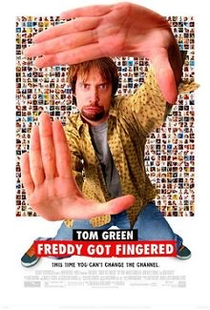 FREDDY GOT FINGERED (18)
20th Century Fox/Epsilon/New Regency/MBST (Larry Brezner, Lauren Lloyd & Howard Lapides)
Tom Green (Gord Brody), Rip Torn (Jim Brody), Marisa Coughlan (Betty), Eddie Kaye Thomas (Freddy Brody), Julie Hagerty (Julie Brody), Anthony Michael Hall (Dave Davidson), Drew Barrymore (Receptionist)
Any review of this film will contain the words "one" "worst" "films" "ever" & "made" somewhere in the review. It's simply inevitable.
Tom Green wrote, directed and starred in this ultimate bad-taste comedy which mostly consists of him playing with roadkill & elephant cocks, driving his family insane with his inappropriate behaviour and accusing his father of sexually molesting his younger brother.
If there's a point to the film, only Tom Green knows what it is. For the viewer, it's an hour & a half of him being a total arsehole. 
One of the worst films ever made and though it has amassed a cult following since its release, it is undoubtedly for all the wrong reasons.
0/10