Freaky Friday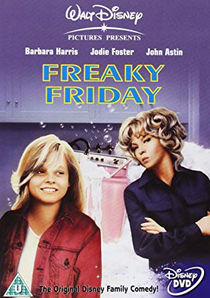 FREAKY FRIDAY (U)
W: Mary Rodgers [based on her novel]
Barbara Harris (Ellen Andrews / Annabel Andrews), Jodie Foster (Annabel Andrews / Ellen Andrews), John Astin (Bill Andrews), Patsy Kelly (Mrs. Schmauss), Dick Van Patten (Harold Jennings)
Released over a decade before all the body swap movies which flooded the late 1980's. This one sees Barbara Harris' conservative mother and Jodie Foster, her tomboyish teenage daughter, express a wish to switch lives- which miraculously happens (hey, it's a Disney movie).
It's a fun film with fun performances, although there's a lot of Disney padding which seem irrelevant to the story. Still, it's much more entertaining than the 2003 remake.
6/10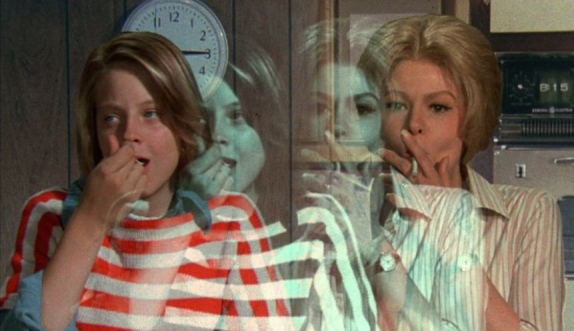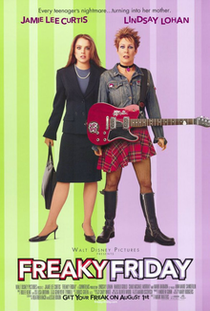 FREAKY FRIDAY (PG)
W: Heather Hach & Leslie Dixon [based on the novel by Mary Rodgers]
Jamie Lee Curtis (Tess Coleman / Anna Coleman), Lindsay Lohan (Anna Coleman / Tess Coleman), Mark Harmon (Ryan), Harold Gould (Alan), Chad Michael Murray (Jake), Stephen Tobolowsky (Elton Bates)
21st century remake of the above which presents an opportunity for Lindsay Lohan to warble her bland, insipid Disneyfied teeny-bopper pop rubbish at any given opportunity.
Jamie Lee Curtis is the film's real saving grace, with a fun performance full of energy and pep which turn back the years. 
It is quite a fun film, but the 1976 version with Barbara Harris and Jodie Foster is better overall.
5/10