Frankenweenie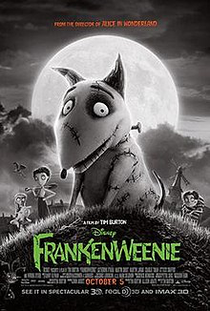 FRANKENWEENIE (PG)
Disney (Tim Burton & Alison Abbate)
W: Tim Burton & John August [based on the short film screenplay by Tim Burton & Lenny Ripps]
voices of: Charlie Tahan (Victor Frankenstein), Catherine O'Hara (Susan Frankenstein), Martin Short (Edward Frankenstein), Martin Landau (Mr. Rzykruski), Winona Ryder (Elsa van Helsing)
Following the incredibly disappointing Alice In Wonderland, Tim Burton is back to his usual standard of gothic filmmaking with this animated remake of his own 1984 short film (one which ironically saw him fired from Disney for making films too scary for the target demographic of young children).
Using the basic premise of Frankenstein & mixing in a few references from other classic horrors (Dracula, etc.) it sees a schoolboy resurrect his recently dead dog using electricity, but when his school friends discover this, they use his experiment for their own purposes, which cause more harm than good.
Whilst the animation is absolutely flawless, the storyline suffers the same fate as the original film, the storyline falls between two stools of being too macabre for children and too childish for adults.
6/10