Frankenstein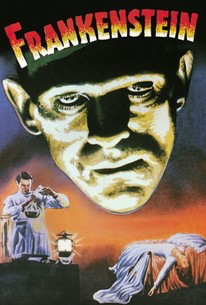 FRANKENSTEIN (PG)
D: James Whale
Universal (Carl Laemmle, Jr.)
W: Garrett Fort, Francis Edwards Faragoh, John Balderston & Robert Florey [based on the novel by Mary Shelley]
Ed: Maurice Pivar & Clarence Kolster
Colin Clive (Henry Frankenstein), Mae Clarke (Elizabeth), John Boles (Victor Moritz), Boris Karloff (The Monster), Edward Van Sloan (Dr, Waldman), Dwight Frye (Fritz, The Dwarf), Frederick Kerr (Baron Frankenstein)
One of the definitive all-time horror movies, leaving a lasting legacy of sequels, remakes, spinoffs, reboots and re-imaginations which are still being produced to this day.
Based on the classic novel by Mary Shelley, a research scientist creates a living monster from corpses' body parts and the creature runs amok.
While certain aspects of the film look dated, it's a fascinating piece of filmmaking considering its age, as well as being a seminal piece of work which established a new order of Hollywood monster movies. Director James Whale and actor Boris Karloff became instant household names following the release of this film and it quite rightly deserves respect. The Bride Of Frankenstein followed in 1935.
8/10