Footloose (1984/2011)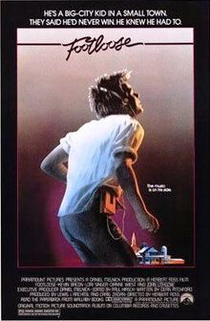 FOOTLOOSE (15)
Paramount/Indieprod (Lewis J. Rachmil & Craig Zadan)
Kevin Bacon (Ren McCormick), Lori Singer (Ariel Moore), John Lithgow (Rev. Moore), Dianne Wiest (Vi Moore), Chris Penn (Willard Hewitt), Sarah Jessica Parker (Rusty)
This 1980's variant on Rebel Without A Cause is sheer guilty pleasure nonsense saved by a soundtrack of memorable songs made famous by Kenny Loggins, amongst others.
Kevin Bacon launched his acting career as Ren McCormick, a rebellious new high school student who wants his school to put on a dance in a town where all forms of pop music are banned by the local parish.
He fights the system, gets his own way and come the big school dance everyone in the small town can deliver amazingly choreographed movements like it wasn't banned in the first place.
The most surprising thing of all is that it was inspired by a real-life ban on pop music and dancing in a small Oklahoma town which went back 88 years.
Typically cheesy 80's stuff, not without its flaws, but the soundtrack alone makes it the stuff of legend. Kick off your Sunday shoes and enjoy.
6/10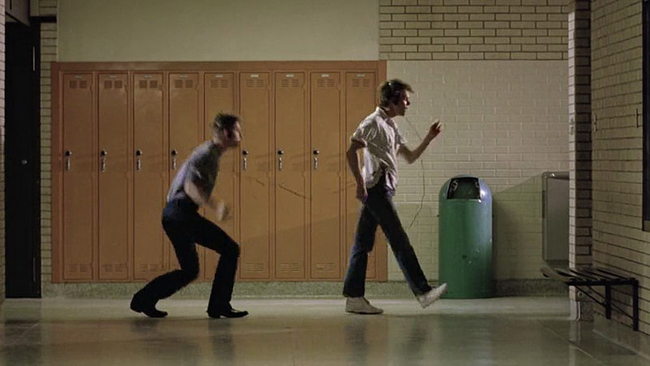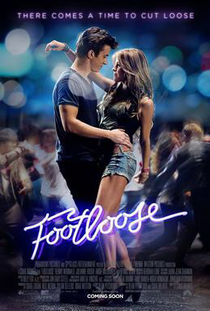 FOOTLOOSE (12)
D: Craig Brewer
Paramount/MTV/Spyglass/Unique/Southern Cross the Dog/Storyline Entertainment (Craig Zadan, Neil Meron, Dylan Sellers & Brad Weston)
US 🇺🇸 2011
113 mins
Drama/Musical
W: Craig Brewer & Dean Pitchford [based on the 1984 screenplay by Dean Pitchford]
DP: Amy Vincent
Ed: Billy Fox
Mus: Deborah Lurie & Blake Shelton
Kenny Wormald (Ren McCormack), Julianne Hough (Ariel Moore), miles Teller (Willard Hewitt), Andie MacDowell (Vi Moore), Dennis Quaid (Rev. Shaw Moore)
Sometimes I wonder about what goes on the minds of Hollywood executives. Are they really so blinded with greed that, when they see an opportunity to make money, they just run with it without thinking things through?
The 1984 version of Footloose was far from perfect. In fact, it was kitsch and cheesy, making it essentially quite perfect for the time when it was released.
It's still a rather silly plot about a small midwest town where dancing & pop music is banned by the local parish and when the ban is finally lifted, all the high school kids dance the night away.
This 2011 remake tries to do things a little more seriously, going as far as showing the car crash that leads to the aforementioned ban. Everything else is line-by-line and song-by-song, prompting why a remake was necessary when the 1984 film was just as easily accessible.
3/10