Food of the Gods (1 & 2)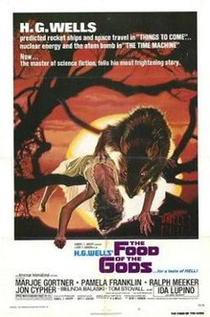 THE FOOD OF THE GODS (18)
W: Bert I. Gordon [based on a story by H. G. Wells]
Marjoe Gortner (Morgan), Pamela Franklin (Lorna), Ralph Meeker (Jack), Ida Lupino (Mrs. Skinner), Jon Cypher (Brian), Tom Stovall (Thomas)
Cheap, risible B-movie nonsense based on a mere portion of H. G. Wells' original story.     
Rats feed on a mysterious fluid and grow to gargantuan size before tearing up the town.     
As far as B-movies go, it's got all the right ingredients: a frightful plot, variable acting performances, tacky special effects, etc.  it just isn't a particularly good film.
3/10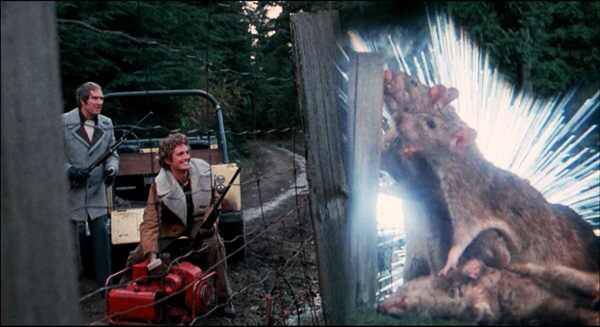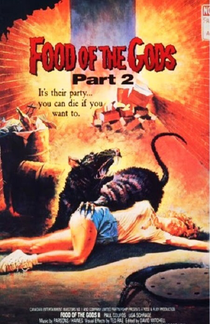 FOOD OF THE GODS II (aka GNAW: FOOD OF THE GODS part II) (18)
Rose & Ruby (David Mitchell & Damian Lee)     
W: Richard Bennett & E. Kim Brewster 
Mus: Dennis Haines & Stephen W. Parsons
Paul Coufos (Dr. Neil Hamilton), Lisa Schrage (Alex Reed), Colin Fox (Prof. Edmund Delhurst), Real Andrews (Mark Hales), Jackie Burroughs (Dr. Kate Travis)
Loose sequel to the 1976 film with even less to do with H. G. Wells' original prose.
This time, giant rats cause havoc on a university campus. Despite being 13 years younger than the first film, the special effects look even worse and the performances are below even the basic standard of a low-budget movie. Shockingly bad, even for a bad movie.
2/10