The Flight of the Phoenix
THE FLIGHT OF THE PHOENIX (PG)
20th Century Fox (Robert Aldrich)
W: Lukas Heller [based on the novel by Elleston Trevor]
Ed: Michael Luciano
James Stewart (Frank Towns), Richard Attenborough (Lew Moran), Peter Finch (Capt. Harris), Hardy Kruger (Heinrich Dorfmann), Ernest Borgnine (Trucker Cobb), Ian Bannen (Crow), Ronald Fraser (Sgt. Watson), Christian Marquand (Dr. Renaud), Dan Duryea (Standish), George Kennedy (Bellamy)
Rousing, slickly directed, adventure story which sees an all-star cast aboard a cargo plane which crashes in the desert. 
In a race against time and the elements, the survivors rebuild another plane from the wreckage.
Surprisingly, Ian Bannen's performance was nominated for a Best Supporting Actor Oscar. Although his performance is good, one would feel Hardy Kruger must have felt incredibly disappointed to be overlooked as the German architect of the rebuilt plane.
A remake was made in 2004, but was nowhere near as intense as this original film (and featured an incredibly irritating performance in the Hardy Kruger role).
7/10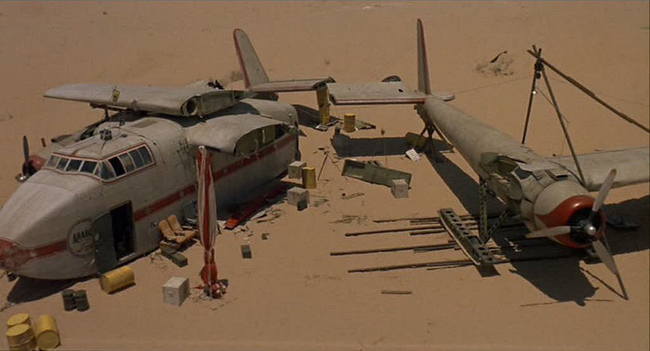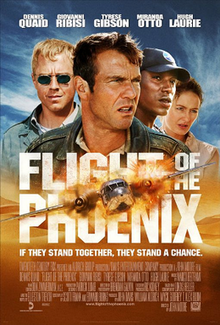 FLIGHT OF THE PHOENIX (12)
20th Century Fox (John Davis, William Aldrich, Wyck Godfrey & T. Alex Blum)
W: Scott Frank & Edward Burns [based on the novel by Elleston Trevor]
Dennis Quaid (Frank Towns), Tyrese Gibson (A.J.), Giovanni Ribisi (Elliot), Miranda Otto (Kelly Johnson), Tony Curran (Alex Rodney), Hugh Laurie (Ian), Scott Michael Campbell (James Liddle)
Remake of the 1965 James Stewart adventure which sees the survivors of a plane crash in the Sahara desert band together to make another plane from the wreckage.
Not a terrible remake, but doesn't match the original in either style, pace or any other merit.
The only notable differences are the vastness of the Sahara being substituted for the Mongolian Desert and Giovanni Ribisi's totally irritating performance as the character played so excellently by Hardy Kruger in the original.
Watch the 1965 version instead.
4/10