Fletch (1 & 2)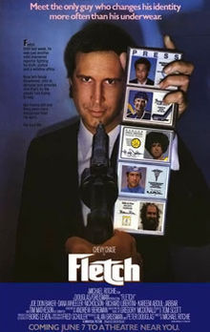 FLETCH (PG)
Universal (Alan Greisman & Peter Douglas)
W: Andrew Bergman [based on the novel by Gregory McDonald]
Chevy Chase (Irwin M. Fletcher), Dana Wheeler-Nicholson (Gail Stanwyck), Tim Matheson (Alan Stanwyck), Joe Don Baker (Chief Jerry), Richard Libertini (Frank Walker), Geena Davis (Larry)
Chevy Chase plays journalist Irwin M. "Fletch" Fletcher, who goes undercover as a drifter to find out more about a beachfront drug-dealing operation. Whilst undercover, he is approached by a playboy who, claiming he has a terminal illness, hires him for his own murder, so his wife can benefit from an inheritance that a suicide won't cover.
Wrought with suspicion, Fletch does his own digging into the matter, aided by a number of disguises, and discovers a link between his two investigations.
The film is very much tailored for Chase's persona, so the enjoyment factor depends heavily on whether or not you like the actor.  Those who do are treated to his best screen performance, giving comedy value to practically every line the script asks him to deliver with an almost deadpan humour style. 1980's guilty pleasure stuff.
7/10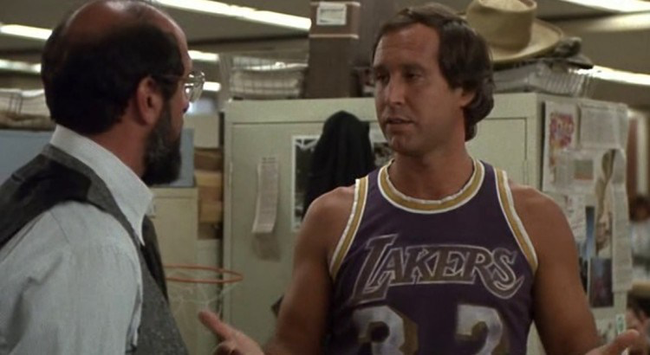 FLETCH LIVES (PG)
Universal (Alan Greisman & Peter Douglas)
W: Leon Capetanos [based on characters created by Gregory McDonald]
Chevy Chase (Irwin Fletcher), Hal Holbrook (Hamilton Johnson), Julianne Phillips (Becky Culpepper), R. Lee Ermey (Jimmy Lee Farmsworth), Randall 'Tex' Cobb (Ben Dover), Cleavon Little (Calculus Entropy)
Average sequel to Fletch, which sees the journalist investigating corruption in the Deep South after he inherits a home there.
The jokes aren't as funny in this follow up to the 1985 comedy, leaving a bare plot of Chevy Chase donning various disguises and doing his usual schtick, but sadly returning no real value for humour.
4/10