Finding Nemo / Finding Dory
FINDING NEMO (U)
Disney/Pixar (Graham Walters)
W: Andrew Stanton, Bob Peterson & David Reynolds
Mus: Thomas Newman
voices of: Albert Brooks (Marlin), Ellen DeGeneres (Dory), Alexander Gould (Nemo), Willem Dafoe (Gill), Allison Janney (Peach), Austin Pendleton (Gurgle), Geoffrey Rush (Nigel)
Finding Nemo was the fifth animated film to be produced by Pixar and is still amongst their best works.
The story begins with Nemo, a young Clownfish, separated from his father in the South Pacific Ocean after being caught in a net and ends up in a fishtank in a dentist's surgery, awaiting adoption from a spoilt niece.
Meanwhile, Nemo's father and his absent-minded companion scour the Ocean in a quest to be reunited with him. 
Finding Nemo perfectly balances comedy with animation genius and features a memorable and hilarious vocal performance from Ellen DeGeneres as the forgetful Dory. Definitely worth "catching".
8/10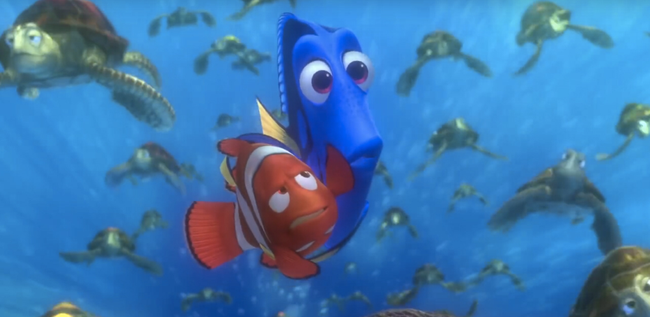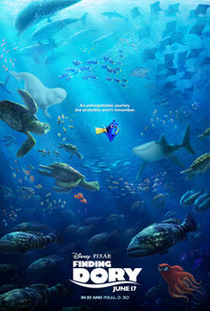 FINDING DORY (PG)
Disney/Pixar (Lindsey Collins)
W: Andrew Stanton & Victoria Strouse [based on characters created by Andrew Stanton, Bob Peterson & David Reynolds]
Ellen DeGeneres (Dory), Albert Brooks (Marlin), Hayden Rolence (Nemo), Ed O'Neill (Hank), Diane Keaton (Jenny), Eugene Levy (Charlie)
This long-awaited sequel to Finding Nemo picks up where the original film left off, and the story doesn't change much. 
Forgetful fish Dory remembers that she was trying to find her parents before becoming friends with Marlin and Nemo, and continues with her adventure finding them, leaving Marlin and Nemo with the task of finding her.
The original film left big shoes to fill, and it's unfortunate that Finding Dory doesn't come anywhere close to filling them.
The adventure, comedy and thrills are lacking, and though this won't matter to much to juvenile audiences, older viewers with fond memories of the original film will be left a little disappointed.
6/10