Fifty Shades (Trilogy)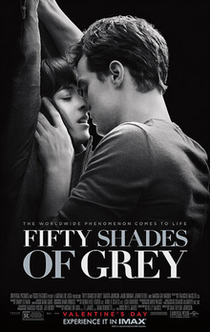 FIFTY SHADES OF GREY (18)
Universal/Focus Features (Michael de Luca, Dana Brunetti & E. L. James)
W: Kelly Marcel [based on the insipid trash masquerading as a novel by E.L. James]
Ed: Anne V. Coates, Lisa Gunning & Debra Neil-Fisher
Dakota Johnson (Anastasia Steele), Jamie Dornan (Christian Grey), Jennifer Ehle (Carla Wilks), Marcia Gay Harden (Dr. Grace Trevelyan-Gray)
A sado-masochistic relationship develops between two unrealistic characters following the most unprofessional interview in business history, which merely consists of literature virgin Anastasia 'Ana' Steele talking to manchild Christian Grey about nothing of consequence.
I've always considered this material to be romanticisation of an abusive relationship and my opinion has not changed. This is glorified rape, plain and simple. Just because he wears a well-tailored suit, has regular manicures and has excelled at whatever his business is does not change this fact. The sex scenes aren't sexy, they're just a big shot taking advantage of a vulnerable, naïve young woman. 
Honestly, replace Jamie Dornan with Harvey Weinstein
 and this is creepy as fuck, even if he does follow the time-honoured romantic tradition of keeping a drunken chick's puke out of her hair. Classy. 
I can't comment on how the portrayal of characters was handled in the books, I've not read them, but in this film Christian Gray is shown as a rich arsehole who thinks he can treat women however badly he wants and still expect to be called 'Sir'. There isn't much romance in that.
The books may have been the product of a successful marketing campaign, but this film is just glossy Hollywood bullshit for people who think they're too classy for pornography.
1/10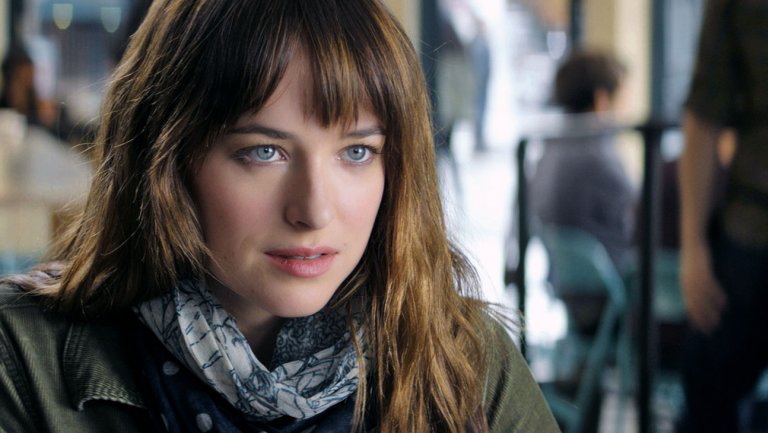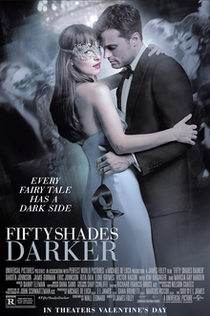 FIFTY SHADES DARKER (18)
D: James Foley
Universal/Perfect World/Trigger Street (Michael DeLuca, E.L. James, Dana Brunetti & Marcus Viscidi)
USA 🇺🇸 2017
118 mins
"Romance"
W: Niall Leonard [based on the insipid trash masquerading as a novel by E.L. James]
DP: John Schwartzman
Ed: Richard Francis-Bruce
Mus: Danny Elfman
Dakota Johnson (Anastasia Steele), Jamie Dornan (Christian Grey), Eric Johnson (Jack Hyde), Eloise Mumford (Kate Kavanagh), Bella Heathcote (Leila Williams), Rita Ora (Mia Grey), Kim Basinger (Elena Lincoln)
A sequel to Fifty Shades Of Grey, because "No means Yes" if you're rich and "handsome". Also, E.L. James churned out three of these fucking books and the first movie made a shitload of money for some reason I honestly cannot fathom.
The story sees the billionaire rapist cram his way back into wet lettuce Anastasia Steele's life because he wants to "renegotiate terms", so he can whip and fuck her at weekends a little bit more. Of course, the best way to do this is to stalk her, buy the company she works for and practically prostitute her for his own titillation. What a gentleman.
Kim Basinger also turns up (caked in clownish makeup) as one of Grey's former lovers and she's less than impressed that she isn't the one being gimped at weekends & treated like a piece of property. Anastasia also has to deal with a rapey boss, but she's not into him because he's not billionaire-rich.
Honestly, these stories are just trash, and although they may provide a little bit of kink for middle aged women with a questionable sex life, as movies they're just insanely dull, poorly acted, insipid bullshit with a terrible message that romance and sexual relationships are just a rich man's plaything.
0/10